New York Comic Con 2019
October 3-6, 2018
Jacob K. Javits Center
New York, NY.
Overview:
I didn't end up getting a table this year. They cut the number of Small Press table, I didn't have any new releases to bring, and even if I secured a spot it would have been tough for me to front the money. Because I made this decision late in the game, I didn't apply for a pro pass and only ended up with passes for Thursday and Sunday. Two days was still more than enough time for me to walk the floor, see some panels, and catch up with folks. There were also plenty of after parties that I didn't need a pass for. I put together a physical portfolio in a binder so that I'd have some nice prints of my most recent stuff. I had a great time at both nights of the Creator After Con Network party and stopped by the Source Point Press after party on Saturday. Even though I didn't table, I was still exhausted by the end of it all. Not having the holiday lined up for the day after was rough. Overall, it was a good weekend for me creatively, even if it didn't match last years high of having a table. There was a lot of introspection, I met a bunch of new people, and I walked away feeling like I'm ready to make some big moves.
Highlights:
• The first thing I did was attend the Classic Horror, Modern Comics panel. I particularly liked the discussion around what makes horror comics unique in the horror genre. I think it really spoke to what drew me to comics in the first place. Comics are the perfect vehicle for creepy atmospheric stories that linger beyond the last page of the book.
•  NYCC is a massive show. It's not uncommon to try and meet up with friends and have it never happen. So it was nice just running into my friend Alex within my first half hour on the floor. 
•  I also managed to meet up with Caroline Cao, who also has a short in the Crush Anthology. Hopefully they will relaunch the Kickstarter on that one in the new year.
•  I had some great horror-centric conversations with Shawn Gabbborin. I also picked up the first two volumes of his series Black Betty even though I still really need to read my copy of Sharksquatch #1.
•  Stopped by and said hello to Michael Bracco (and I eventually got one of his Pug Octopus shirts for my friend Lindsay). 
•  Picked up the three newest issues of First Law of Mad Science, which I've been reading since I picked up Issue #1 at my very first NYCC. It's time to get caught back up on that.
•  Stopped by the Vault Comics booth to say hi to Joe Corallo, who I later ran into in Artist Alley. All five issues of his series She Said Destroy are out now!
•  I picked up Whatzit #2 from Gideon Kendall while I was in Artist Alley. I know him from Special Edition: NYC in 2015.
•  I also picked up some trades of Insexts and Black Eyed Kids from Aftershock Comics.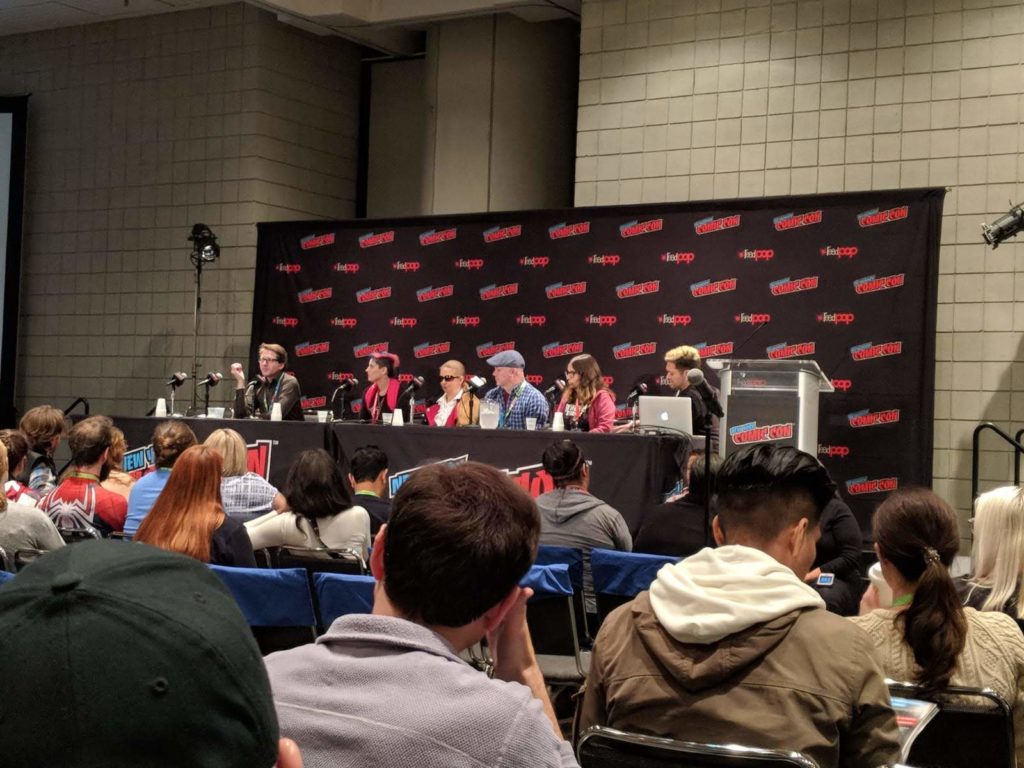 •  I had to work on Friday, but I was still able to go to the Creator After Con Network event at Twins Pub. It's one of my favorite spots every year. The first reason is all of the familiar faces. 
•  James E. Roche was there with a cast and a cane. He and I tabled together at the Greater Philadelphia Comic Con back in 2017. His series Wretches has been picked up by Scout Comics. Look for issue #1 this November!
•  James introduced me to Ralf Singh and Cristian Docolomansky. They were in New York with the first trade of comic series Zinnober, also from Scout Comics.
•  There were a bunch of other familiar faces, too. Catherine Y. Kirch (whom I will finally email this year, I promise), Jeff Rider, Joel Jacob Barker, Patrick Sinnot, and Marc C. Frankel from Wayward Raven.
•  Of course, I also met a bunch of new people. There was Frank Gogol, who I have been following on Twitter but had never met in person. I also met Lynsey Hutchinson, Mario Candelaria, & Tony James.
•  I had some fantastically geeky conversations with Jamal Jones and Mike J Sealie towards the end of the night.
•  I didn't have a Saturday pass so I spent the day writing.
•  I headed out to the Source Point Press Party, where there would be Burlesque performances. I ran into Shawn again while I was there and Jon Engle.
• My favorite moment of the Burlesque show was when Deadpool stripped off their mask to reveal… another Deadpool mask underneath.
•  I had another great conversation with Jamal at the bar when I was closing out.
•  I left the Source Point party a little early and headed back to the second night of the Creator After Con Network event. 
•  It was really nice catching up with Jeremy Ferretti and talking all sorts of geeky stuff. I also met Jeremy "Dutch" Hill, and we talked about using creepy dreams as inspiration.
•  I really had to force myself to leave the apartment on Sunday. My body was demanding sleep and zero social interaction. But nevertheless, I persisted.
•  I wanted to show some Geek cred so I wore my Poe Dameron jacket. I was sweaty as fuck but I suffered for fashion.
•  I attempted to get a button for Jennifer Dugan from Jen Bartel's booth, but I was too late.
•  I stopped by Source Point's booth and picked up Dead End Kids and the Grief anthology by Frank Gogol. I'm really excited to check out both of those.
•  I randomly bumped into Anthony Dortch, who I tabled with at Flame Con back in August.
•  I saw David Rondinelli for the first time in a long time. I met him way back at the first Flame Con. I picked up the first copy of his comic Vesperatine.
•  I stopped by Scout Comics table so I could buy a copy of Zinnober, and get it signed.
•  Stopped by to say hello to Greg Anderson Elysee. He took a selfie with me, which is a really good practice I might need to adopt (even though the introvert in me finds that terrifying). I've got volume 2 of Greg's I'snana the Were Spider series lined up on my ipad to read soon.
•  Had a great little conversation with Christof Bogacs about his upcoming Outback Steakhouse adventure, as well as publishing contracts and who to steer clear of.
•  On my way out, I  stopped by the Scout Comics booth and got my copy of Heavenly Blues signed by Ben Kahn.
Would I go back?
Every year that I can, I will. It's local for me and there are too many opportunities for me to just pass it up. That being said, I haven't missed a year since 2012. So when the time comes to take a year off, I will be ready for it.
And finally…
Obligatory Convention Selfie