Flame Con
August 17-18, 2019
Sheraton Times Square
New York, NY
Overview:
Flame Con is of my favorite shows to return to every year. I was there for the first one back in 2015, and I've come back every year since. I downgraded to a half table this year, which I'm glad I did. It saved me some money and it hopefully opened up some more space to the huge demand for exhibitor tables. I ended up sharing a table with Anthony Dortch, whom I'd met at Flame Con back in 2016. I had originally hoped to have copies of the new Crush Anthology this year, so I was anxious about returning with nothing new this year. I ended up making my table money back before the end of Day 1, and was able to let that anxiety go. It was refreshing to just enjoy being in the wonderful queer space that is Flame Con. I love just how many familiar faces I end up seeing every year at this show. I even got to escape my table for a bit and check out the Queer Horror Comics panel upstairs. Dierre came to help me breakdown at the end of Day 2. We managed to miss the worst of the rain on the way back. All in all, I felt like I got to chill and appreciate the show this year more than I have in previous years. It's not all about promoting and selling; it's also about community and the ways we take part in it. I don't ever want to lose sight of that.
With my D-27 Table mate Anthony Dortch.
Highlights:
•  Tabling with Anthony was a lot of fun, and I had some great conversations with his friend Ben.
•  I was also tabled next to Ben Kahn, whom I've known through social media but have not had the chance to really talk to in person.
•  I had a handful of people come up to me and tell me how much they liked Dream Crasher Vol. One, which felt amazing. We are hard at work on Volume 2, and I hope it will not disappoint!
•  The Queer Horror Comics panel was really interesting. I meant to record it but I forgot. Hopefully someone else did, because I would butcher any attempt to paraphrase it here.
•  I had a nice dinner in Manhattan with Jennifer Dugan and her husband. We had met tabling next to each other at last month's Electric City Comic Con. 
•  I met up with Dierre and our friends Nicole and Phaon for drinks in my neighborhood after. They had a friend visiting from Madrid. Phaon and I talked about the business of mailing lists and facebook ads. I left early because I needed sleep if I was going to make it through a second day of Flame Con.
•  I picked up a few cool looking books: Eldritch Animals by Mara Jayne Carpenter and a terrifying horror art zine book by Maria Nguyen.
•  It was great catching up with Jennie Wood and hearing about how her adaptations for Flutter and A Boy Like Me are going.
•  I had some great conversations with Noah Sharma and James B. Emmett. I also I ran into fellow Geeks OUT blogger Kate.
•  Joe Corallo stopped by and we talked for a bit. He was doing some signing for his new series She Said Destroy.
•  Talked some queer horror with John Jennison, who's book The Closet of Secrets just came out earlier this year.
•  I got to see Joven Tolentino and pick up a copy of The Cult House #4. I also got to see and briefly talk with Christopher DILLEN Phelps, the designer of my favorite skull shirt.
•  I almost missed Cameron Wallnce, but thankfully Dierre told me where to find him. Hopefully we will be collaborating on a short pride-themed comic in the coming year.
•  Caught up with a few people I met earlier this year at the NYC Queer Comics Expo, including Kyle Anderson and Lena Green of Doable Guys and my table mate Lucky Sanford.
•  Ran into Joey and Nicole while making my final round on the floor, got to catch up briefly and talk about some small world moments.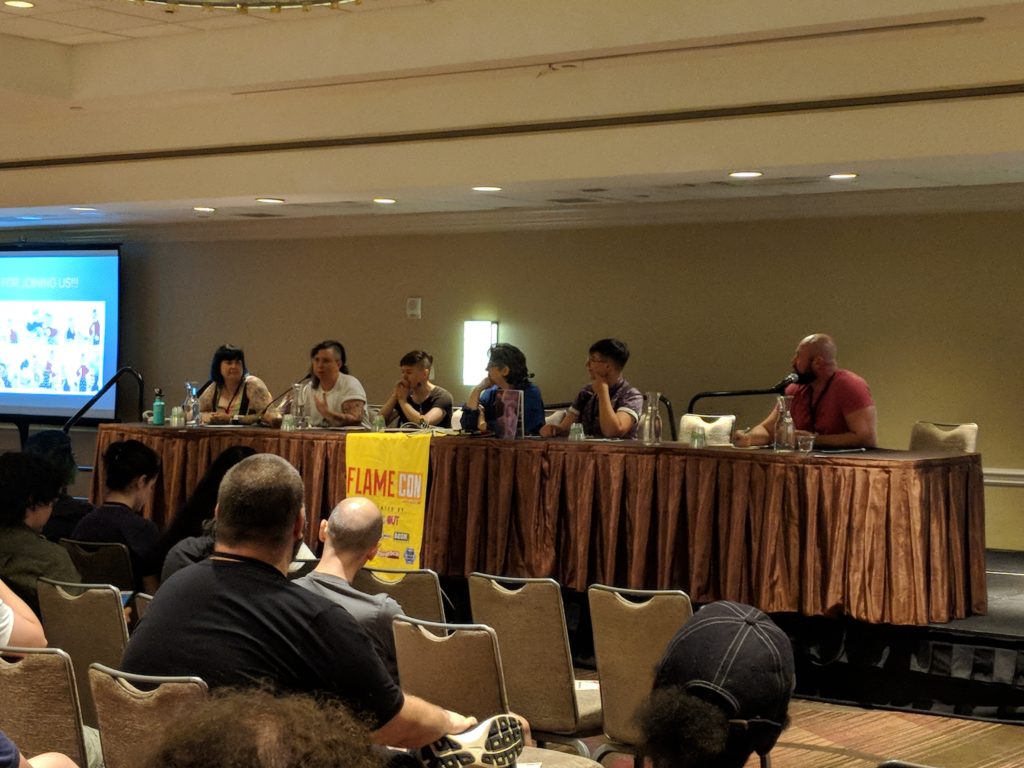 Queer Horror Comics panel on Day 1.
Would I go back?
I will go back to Flame Con every year that it is possible. If that means taking years off to allow for other creators to get a chance, then that's what it will have to be. I really love this show, and despite its growing pains, I want it to succeed and continue to be a space for the queer community. I want other queer creators who are just starting to put their work out there to have the same opportunity that I had.
And finally…
Obligatory Convention Selfie