Brooklyn Pride Comic Book Fair
June 13, 2021
Anyone Comics
Brooklyn, NY
Overview:
The one and only John Jennison invited me to table at this event he put together with Anyone Comics. I hadn't been to a show since NYCC 2019, and hadn't tabled since Flame Con 2019. So much has changed in those 22 months, but I couldn't have asked for a better show to come back with. Not only do queer shows always bring out the best audiences, but I love that it was small and only one day. I'm happy to report that I have largely retained my social skills. I talked to lots of new people and saw several familiar faces. I did well in regards to sales, and none of my books got wet in the brief bout of rain we got around 3pm. This was the first show I had ever done where I've had to worry about wind. I started out with my banner up but ended up just taking it down after some near-disasters. I also got to debut a new print of my "Euphoria" comic. I had 50 copies made exclusively for this show; there are still a few left for sale. As much as I love Dream Crasher, it was nice to sell something both new and colorful. This was also the first convention I've owned a car for in all my years of tabling. Parking was a pain, but it made everything else a whole lot easier. It felt like a miniature outdoor Flame Con, which is sadly not returning until 2022. As much as I loved seeing everyone, I was socially and emotionally tapped out by the end of the day. It's going to be a while before I get the hang of this con thing again, but it was nice to be back.
Highlights:
•  The show got some beautiful local news coverage as a part of their pride special. Congrats to John and all of the creators featured. You can catch my banner in one of the shots if you've got a quick eye.
•  John did an amazing job pulling this all together. I can't thank him and Anyone Comics enough for including me.
•  I got a lot of great responses to "Euphoria," which felt really good. The comic has been done for two years and it finally has a home in print!
• This was the first show I got to plug Dream Crasher on Webtoon. We're all caught up on there now, and Chapter 7 is underway. Stay tuned for news this summer!
• There were local news cameras there and I may have been in one of the shots but I haven't sought out the footage. Hopefully, it was a nice little way of queering up the local Sunday news.
•  It was great getting to see Christopher DILLEN Phelps again. He designs amazing skull shirts and other merch. He also has a superior weather app on his phone, but I didn't catch the name of it.
•  I got to catch up with artist Cameron Wallace, and Geeks OUT president Nicole. I can't believe it's been years since I've seen most of these people.
• I had a great conversation catching up with Jonah Newman and talked about graphic novel projects and working during quarantine. He's got some really exciting projects in the works.
• Kevin Gilligan, host of the Geeks OUT Podcast stopped by and we talked about some of the exciting upcoming stuff we've got going on with Fear Street.
•  I didn't get a chance to talk to Liam Donnelly but I will make a point of it at the next show. I'm still fumbling our way out of quarantine and my social skills are a few steps behind.
• I got to talk briefly with Greg Anderson Elysee as we were closing up. He just launched a new Kickstarter for his I'snana the Were Spider series. Y'all should check it out and back it.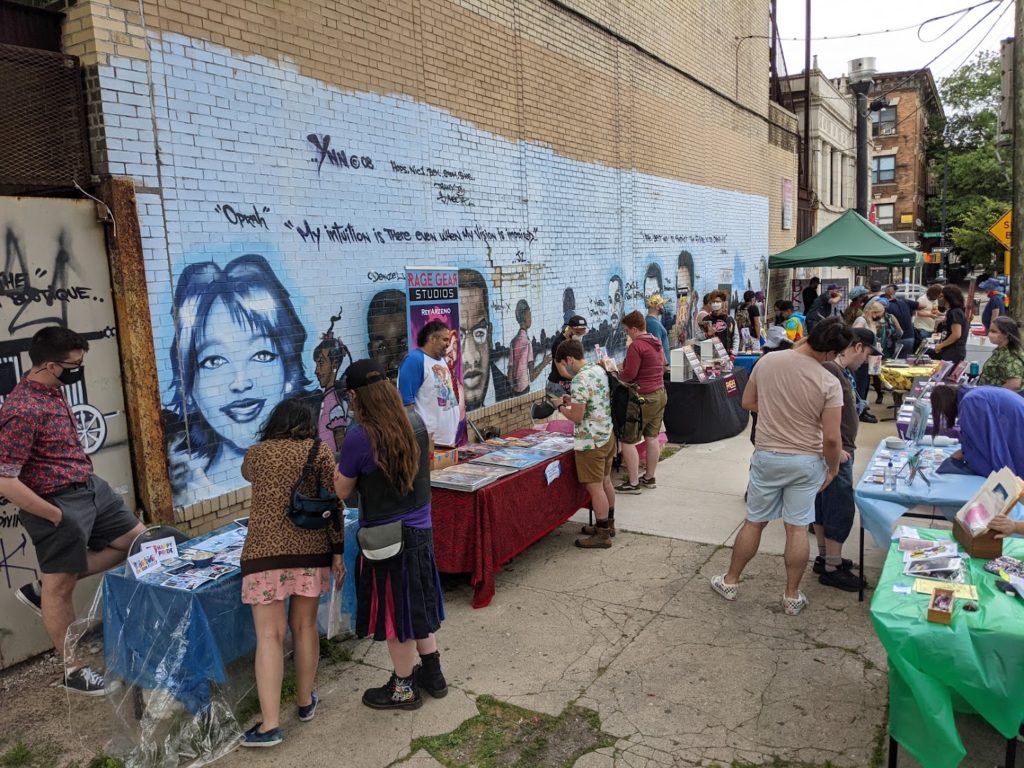 A view from the other side.
Would I go back?
An unequivocal yes. It checked all the boxes for my favorite kinds of shows. It was gay, easy to get to, and only one day. What's not to love about that?
And finally…
Obligatory Convention Selfie