New York Comic Con
October 7-10 2021
Javits Center
New York, NY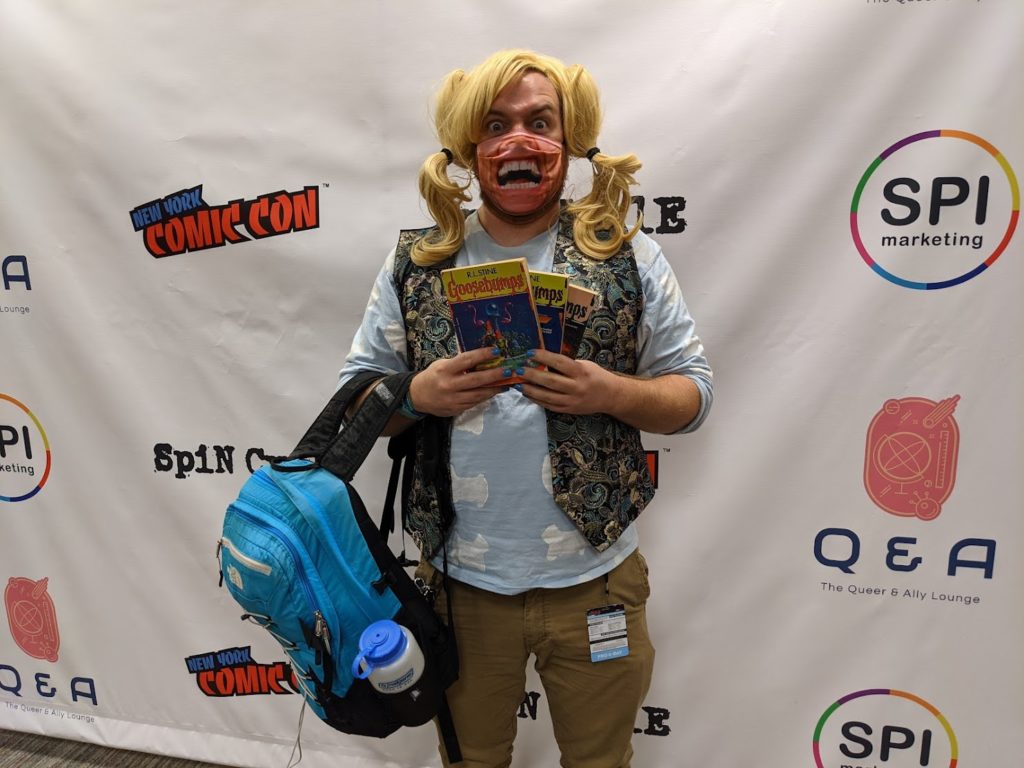 The Ermahgerd NYCC debut.
Overview:
New York Comic Con was my first ever convention back in 2012. It was a constant in my life for eight years until 2020 did its thing. When I saw that NYCC 2021 would be requiring proof of vaccination for entry, I decided to get a Pro Pass. I messed up on my Artist Alley application by spazzing out and submitting it while midway through a sentence. I shrugged it off and took it as a sign that I'm not quite ready to do a 4-day stint as an extrovert just yet. Being that I only made it through three days of the show, I think that was a good call for my mental health.
I also had serious doubts about what the turnout of the show would be. That meant dropping money on a small press table as I did in 2018 was out of the question. It ended up being better than I expected, but it was still decidedly fewer people than the previous sold-out years have been. It was good to catch up with friends, go to some panels and get some new ideas flowing, and buy a bunch of books as though I don't already have a ton that I haven't read yet. My Ermahgerd costume made its NYCC debut and I got my picture taken with some of my favorite drag queens. It was overwhelming at times, but by and large, it was good to be back.
Conventions always bring about a mix of emotions for me. There's the high of geeking out, seeing friends, and having great conversations. But on the other hand, there's imposter syndrome and the sense of feeling lost in the noise. I'm better at quieting that negative inner voice than I used to, but it's difficult in the over-stimulating environment that is NYCC. This year, it was only in the weeks after that I was able to find my equilibrium again. I'm still figuring shit out and finding my way, but I know more now than I did when I started on this journey ten years ago. It isn't too late for me and I haven't missed my shot. I haven't made it yet, but in the meantime, I'm going to keep showing up.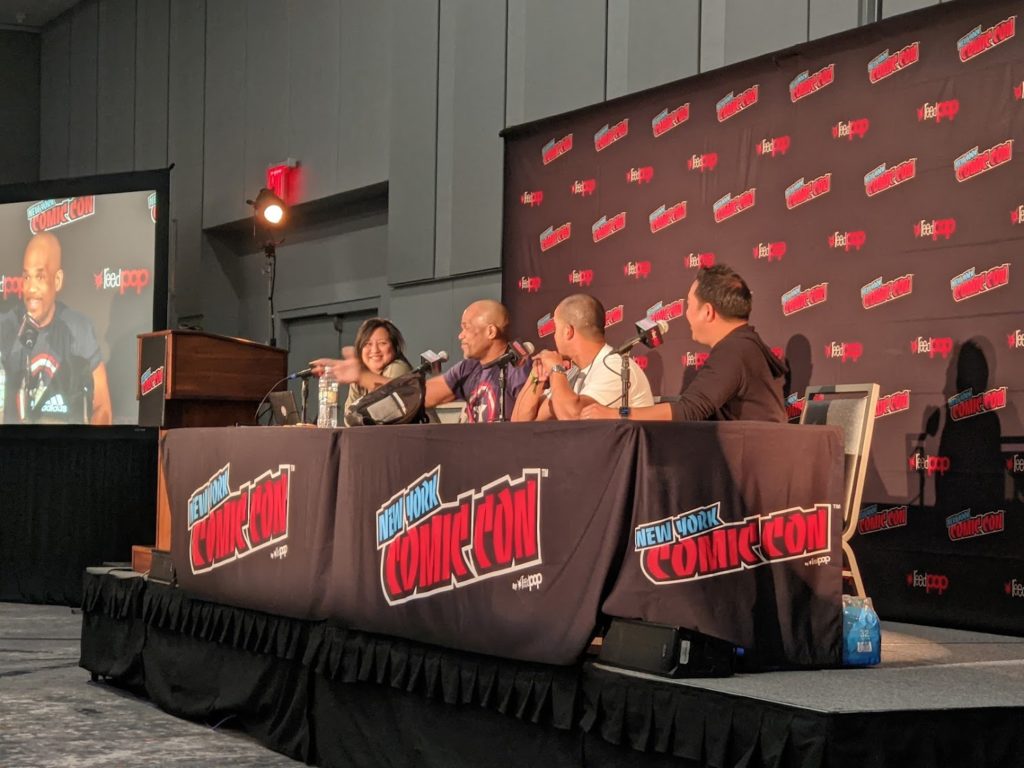 Run from Run DMC on the branding panel.
Highlights:
Thursday
•  The week before NYCC I had just been upstate talking about comics at my alma mater SUNY Oneonta, and followed that up with a camping trip with the bestie. So I was starting things out on a sleep deficit and decided to sleep in on day one. It was a good call.
•  I walked the floor first, really proud of the fact that I didn't buy anything on my first pass.
•  I hadn't realized that Monstress had come out with two new volumes, so I snagged copies of those. I also grabbed Kill a Man and the first three volumes of Baby Teeth from the Aftershock booth. Clearly, I've been on a big horror kick.
•  They moved most of the panels to a different building, and I think that was a great move. It made for a lot more room in Artist Alley.
•  I went to a panel on pitching comic ideas. Took some good notes, although a lot of the ideas weren't new to me. It's still a skill that I have in no way mastered so it all bears repeating.
•  Stopped by Artist Alley to say hi to James E Roche and Greg Anderson Elysée. I think I've mastered the subtle art of abruptly ending a conversation and stepping aside when a patron approaches the table in these sorts of conversations.
•  I closed out my night with one more panel, this one on forming relationships with publishers and editors. Again, I don't expect these to provide me with ah-ha moments where I masterfully finally break my way in, but it's a skill I need to work at. I took notes on a few things that should help me out later.
with Greg Anderson Elysée in Artist Alley.
Friday
•  I started my day much earlier on Friday. That walk from Eighth Avenue to Javitz is always longer than I remember it being, even though I remember it's long.
•  The first panel I went to was on branding and featured Run from Run DMC. A lot of it focused on branding challenges that come with a level of fame I don't have, but there was one really useful bit that I am going to tuck away for future me: not every opportunity is right for you to take. It's OK to say no when it's something you really don't want to do, even if the pressure and expectation for you to do it are there. 
•  I followed that right up with a Kickstarter panel. I think I was getting a little glassy-eyed with some of the business stuff at this point. It was a lot of stuff that I already knew, but a useful refresher for the next Kickstarter I'm planning.
•  Following the two panels, I took some time to eat a little lunch outside and write down a bunch of thoughts that were running through my mind. I was thinking about the business aspect of comics, the part that feels like it already takes up too much time when all I want to do is write stories. It was more a lits of questions for myself to come back to once the overstimulation of the con dies down. 
•  I also went to a panel from Z2 Comics because I was curious about music comics and what they have been doing. The panel started late, didn't have the Gwar bit they promised, and it wasn't all that helpful for the project I have in mind.
•  After that, I met up with Joe Corallo in Artist Alley. We caught up with Jeff Rider and Ian Mondrick as well before we headed to get some coffee and escape the con for a while. I missed him and it was really nice just talking about all sorts of geeky things.
•  I then headed over to the Creator After Con at Twins Pub but realized I had lost my keys at some point. Thankfully I have a tracker on them and was able to get back in and trace them back to the source. The staff member who had found them was a little confused when the keys started ringing as I approached, but all is well that ends well.
•  CACN at Twins Pub has always been one of my favorite parts of NYCC since it started. It's how I've met some of my favorite fellow creators over the years. It was great seeing Jeremy Ferretti, Johnny C, and the Wayward Raven folks.
•  I met some new people, too. It was a good night. I closed out the bar and headed home
with Jeremy Ferretti at Twins Pub.
Saturday
•  Saturday was determined to be the day that I dressed up at NYCC for the first time. I already had a special Arnold Schwarzenegger face mask for the occasion. Wearing that cheap ass wig for a whole day was an exercise in patience.
•  One guy thought I was cosplaying from Jenifer at first, so that was interesting. 
•  My friend Kevin Gilligan (host of the Geeks OUT podcast) was going to be on a panel with Jackie Cox from RuPauls' Drag Race, so I made my way over to check that out and ran into a few other friends.
•  There was a tense moment when a member of the audience question the decision to have a panel on diversity that was predominantly white. The makeup of the panel ultimately lies with the event organizers on this point, but it gave me something to consider from the panel participant side of things. I've been on panels and I know I would jump without a second thought to do one at NYCC. But there should be a pause before accepting, as it's important to consider who else is on the panel and who may have been passed over to give me that spot. Knowing when to take up space as a queer person versus when to check my white privilege and stand aside is a tricky balancing act.
•  I stuck around for the cocktail hour, where I got to meet Jackie Cox and Tammie Brown. I got a signed picture of Jackie and told her about Dr. Murkin, the dirtiest joke RL Stine ever worked into a Goosebumps book. HI CELEBRITY I BRING YOU RELEVANT FACTS. (Jackie Brown did an amazing merkin sketch on her season of Drag Race).
•  Spent some time catching up with Brian Olsen and his friend John Xavier Miller. Also got to talk with Nic from Geeks OUT for a bit.
•  I left on the early side because I was exhausted. I went home and watched The Fly and To Wong Foo, which put me in a happy place in spite of all its dated silliness.
•  I thought I was in for a quiet night but ended up stepping out back and hanging out at our next-door neighbor's party. Definitely stayed up way too late for how tired I already was.
Left: with Jacki Cox. Right: with Tammie Brown.
Sunday
•  When I say I did absolutely nothing on Sunday, I do mean absolutely nothing. Dierre and I finished the first season of The Crown and I took an amazing midday nap. I had wanted to make it to the Geeks OUT party but I couldn't even entertain the idea of making it into Manhattan. It was the end of a 2-week stint and my mind and body were ready to disconnect and recharge. Until the next convention… which definitely won't be until 2022 at the earliest.
with Brian Olsen and John Xavier Miller.
Would I go back?
This was my ninth time, so it's safe to say yes. And as long as I'm local, it'll be an easy show to get to.
And finally…
Obligatory Convention Selfie