This is the second post in the blog series I'm dubbing Convention Logs. I am going to try and write up one of these every time I do a show. It's a way of both documenting and sharing what I did and who I met, and I can never resist the opportunity to sneak in a Star Trek reference.
It there are two things I have learned to love since I started tabling at shows, it's inexpensive table rates and one day conventions. It goes hand in hand with avoiding three-day conventions that should only be two. I'm still a ways off from turning an actual profit at these shows, but I try to take whatever steps can be taken to minimize loss and not waste my time. All of this factored into my decision to table at X-Con back in May.
I found out about the show through Ramon Gil, who runs the NY Comic Book & Graphic Novel Creators Meetup earlier this year. It seemed like a nice one-day show for a good cause. I could also get there by taking only one train, which is a huge perk when you're lugging a suitcase full of books by yourself.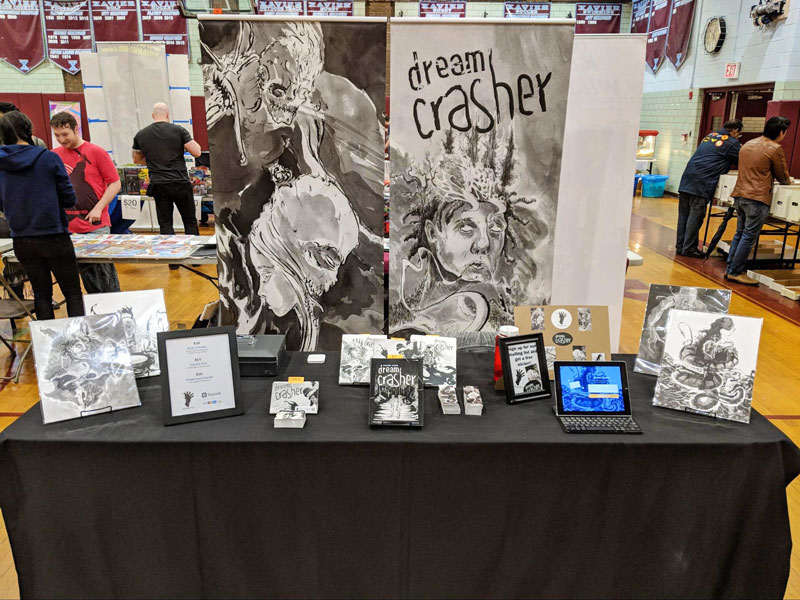 While there wasn't a huge crowd, I did well enough. It's easy to despair at show when there aren't a lot of attendees, or when traffic to your booth in particular seems nonexistent. I have learned over time that this is an unhelpful response. There isn't much you can do about things that are beyond your control. The best thing to do in this scenario is to take advantage of being surrounded by a slew of other comic creators and artists. This is true for cons you are struggling at, as well as those second or third day slumps of a multi-day convention.
As a creator starting out in a relatively small industry, networking and building community are just as important as sales. In the case of X-Con – which again, I didn't do half bad at – I took my own advice. I caught up with Christopher Dillen Phelps, whom I had met previously at Flame Con. We ended up doing a partial trade of some comics for a badass skull t-shirt (that you can find on his web store). I also got to take a look at one of the early preview copies of Tom N Artie by Robert Livingston. Tabling right behind me was Stan Chou, who recently launched his new series Saving Amelia on Line Webtoon.
Me talking with Joe Corallo, Photo by Renzo Ventrella.
As the picture above foreshadowed, Joe Corallo and I got a chance to catch up. He recently edited the comic book anthology Mine, and was at the Comic Mix table with Glen Hauman. I got to meet a number of new faces, too. I picked up a copy of the comic Quixote by Deron Bennett. He also does a lot of lettering work and recently designed one of the variant covers for the Power Rangers Shattered Grid event. I also had a nice conversation with Andrew Frank Rodriguez who has some beautiful fantasy maps.
In an effort to keep things from getting repetitive, I also picked up copies of the following:
 • The children's book Lesty Lee, Monster of Monsters from writer and artist Matt Bergin.
• Some fun Free Comic Book Day zines from Ellen Stedfeld.
 • Issue #1 of Fuel of Life from writer Luis M. Cruz.
• Issue #1 of The Sweetness from Miss Lasko-Gross.
• Issue #0 of Zindan from writer Omar Mirza.
After a day of meeting new people, catching up with other creators, selling a few books, and having some excellent conversations, I lugged all of my stuff back to Brooklyn and had myself an epic nap.