The Saratoga Comic Con has consistently been one of my better shows since I started tabling, and for the third year in a row did not disappoint. Sales were great. I hosted a panel and participated on another. This was also the first show I had copies of Dream Crasher Volume 1 on hand.
I drove upstate Thursday morning with my dog and convention gear in tow, and made it to my parents house just in time to call in for a recording on the Cesar Torres Podcast. The podcast was a lot of fun, and I will hopefully be crossing path with Cesar again at Flame Con this summer. I spent the rest of the day catching up with family.
I woke up Friday morning to notice that the box of books had arrived. Due to unexpected delays on the production end, I had worked out an arrangement to get a box of proofs just in time for this first convention. Thankfully they came out great and we're only making a few tweaks to the rest of the print run.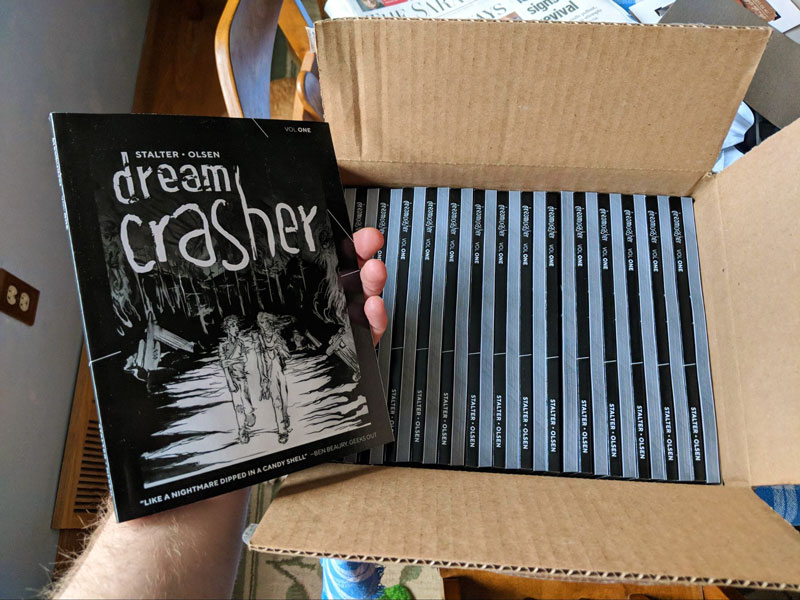 This moment of triumph was immediately contrasted with a failed attempt at screen printing the Stealing Fire Logo onto some canvas bags. I had left the screen printing ink in Brooklyn and thought the fabric paint I found at AC Moore would suffice. Unfortunately, it dried on the screen and the acetone I had to use to unclog it ruined the screen in the process. It was a learning experience I could have done without, but at least I won't be making that mistake again.
I closed the evening on a lighter note, getting to meet my friends Becky and Rejean's new son.
For Day 1, I overslept a little bit and got there later than I wanted to. I was stationed next to a cupcake vendor, which I successfully resisted the temptation to eat for (almost) the entirety of the weekend. Katie stopped by for a bit and snapped a picture of me. Also had a good time catching up with my friend Eric. As always it was great to see host Johnny C and the always wonderful Caitlin. I think one of my favorite things about this show is its homemade feel, and I'm not just saying that because it's held in the same venue as my high school prom. It's a little rough around the edges, but it brings out a great crowd and has a nice authentic feel. It's one that I hope I can always make it back to every Spring.
After the show I went out to dinner with the Constellation Comics crew Anna Leue and Peter Jaros. Anna is the writer of Half Man, and earlier this year she penned an excellent Forward for Dream Crasher. My good friends Brittany and Rachel joined us, and I had a good time catching up with both of them after. Brittany offered me sub-par dog biscuits; I politely declined. We had some drinks at Desperate Annie's, got dough boys at Esperantos, and did what you do in downtown Saratoga. It was a good night.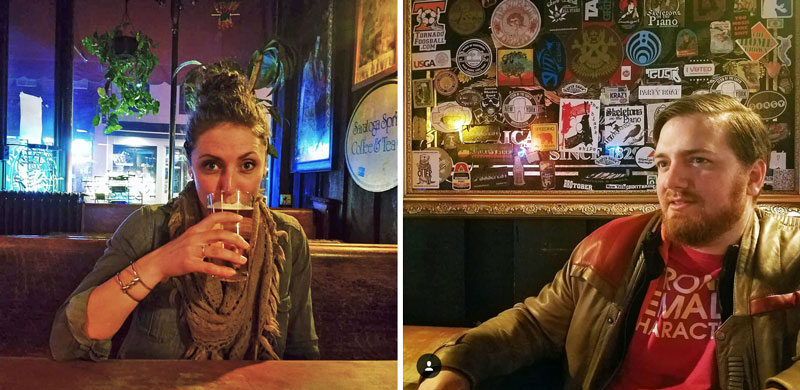 Day 2 was a bit slower. Katie came by again to help me out with watching the table while I went and did my first panel of the day. The first panel was one I had organized on Creating and Self Publishing Comics, and I brought fellow creators Anna Leue (Half Man, The Next Dance) and Assad Lousou (Vince Cross, Rachel Paige Ghost Hunter) to discuss their experiences with the business. Later in the day I participated in Asaad's panel Battle of the Movies, where I was to defend the first Avengers film against Christopher Nolan's Dark Knight. Ultimately my argument for Avengers being an unprecedented cinematic event and attacks against Christian Bale's Batman voice did not succeed and the Dark Knight won. I suppose I never really stood a chance against one of the best movie villains of all time, but next time I'll do my homework.
At the end of the day my sister Jenn came and helped me pack up my stuff and load the car, and we then went to get dinner with my parents and aunt. I closed out my night hanging out with my friends Sean & Laura and their new spot in Colonie. I packed up the car with some furniture and plates my parents were getting rid of, and I discovered two old board game gems in the basement. If you've never played the video board games Nightmare or Atmosfear, then you are seriously missing out on an authentic 90s experience. I had to explain to Dierre why I a brought a VCR back to Brooklyn with me, but it was totally worth it.
In conclusion to this summary post about an excellent weekend, I want to talk about Empire State Comic Con. I found out just one day before Saratoga Comic Con that another comic convention was happening that same weekend in Albany. From what I understand, this was done deliberately, and perpetrated by one to cut into the attendance of the other. I won't say which, but only one of the cons has been around for several years, while the other is brand new and seems to have an extensive marketing budget. Regardless of who is right or wrong in this scenario; it is the creators who get hurt. The people who shelled out money for a table in hopes to sell some of what they have put a lot of time and effort into creating. Many of whom won't see a profit on a good day. There are 52 weeks in a year; you should have no issues picking weekends that don't overlap. It's as simple as not being dicks about it.