Back in June, Jaime and I both sat in the NYCC ticket queue for a good hour before he finally got in and grabbed us both passes for Friday and Saturday. When my spot in the queue finally broke I snagged one for myself for Thursday. This would be my first year going to Comic Con with a known title (Dream Crasher) for the comic series Reed Olsen and I have been working on for the last four years. I had some last minute post cards printed up just a week before, and they arrived right on time.
I'm going to use my first post on this new blog to write a detailed account of my weekend. For the sake of not having one gigantic post I will do a separate one for each of the three days I went. I met and spoke with a lot of talented creators about their comic book lines, and how they went about self-publishing. I also attended a number of great panels, and walked away with some good pro tips on getting my work out there. So without further adieu, here it is.
Thursday – October 9
I didn't do a whole lot of walking the floor on Thursday, though I did stop by the Image Comics booth to pick up a copy of Undertow and get it signed by Steve Orlando. I've been following his work since I read up Nobodies Volume 2, and backed his Kick Starter for Virgil earlier this year. It was nice to meet him, talk comics, and finally get a copy of Undertow. I took the rest of my afternoon to pick up a few gifts for some friends, and resisted buying this beautifully tacky Star Trek glass set.
My first panel was for the #WeNeedDiverseBooks Campaign. There were several complaints about the diversity panel being placed in the smallest room. I am not sure if anyone ended up being turned away, but every single seat was filled. We got a nice history of diversity in comic books, as well as the history of flat-out racist stereotypes that early comics perpetrated. I was hoping to hear a bit more on efforts being made to expand the campaign, but time ended up being cut short. As a white man I know that I am exceptionally well represented in comic books, but as a gay man I know what it's like to be invisible or represented by offensive stereotypes. A lot of this stuff is changing, but it's a painfully slow process. What I believe it largely boils down to is: if you want diverse representations in comics, you need more diverse writers and artists. If you want more diverse writers and artists, we need more diverse publishers, editors, and executives.
The second panel I went to was for comiXology Submit. I attended this one last year, and was happy to see this years panel include some first time creators as well as seasoned veterans of the industry. Ruben & Bethany Romero, co-creators of the new series The Agency, spoke about their experience of first working with a publisher before deciding to go out on their own. Joshua Hale Fialkov, writer of The Bunker, returned again from last years panel. He has repeated on both occasions that I have seen him that hiring a letterer is one of the best things new comic creators can do before submitting their finished product. I still need to talk it over with Reed, but it is something I am considering. Also there from comiXology was co-founder John D. Roberts and panel moderator Chip Mosher. I even worked up the nerve to ask one of the last questions before we were kicked out of the room, because I was curious to know of any details with webcomics and their relationship with the digital platform. It's definitely something I plan on doing further research on, as I plan on releasing at least the first couple of chapters for Dream Crasher webcomic style. Overall though, comiXology Submit seems to be an excellent tool for indie creators to take advantage of.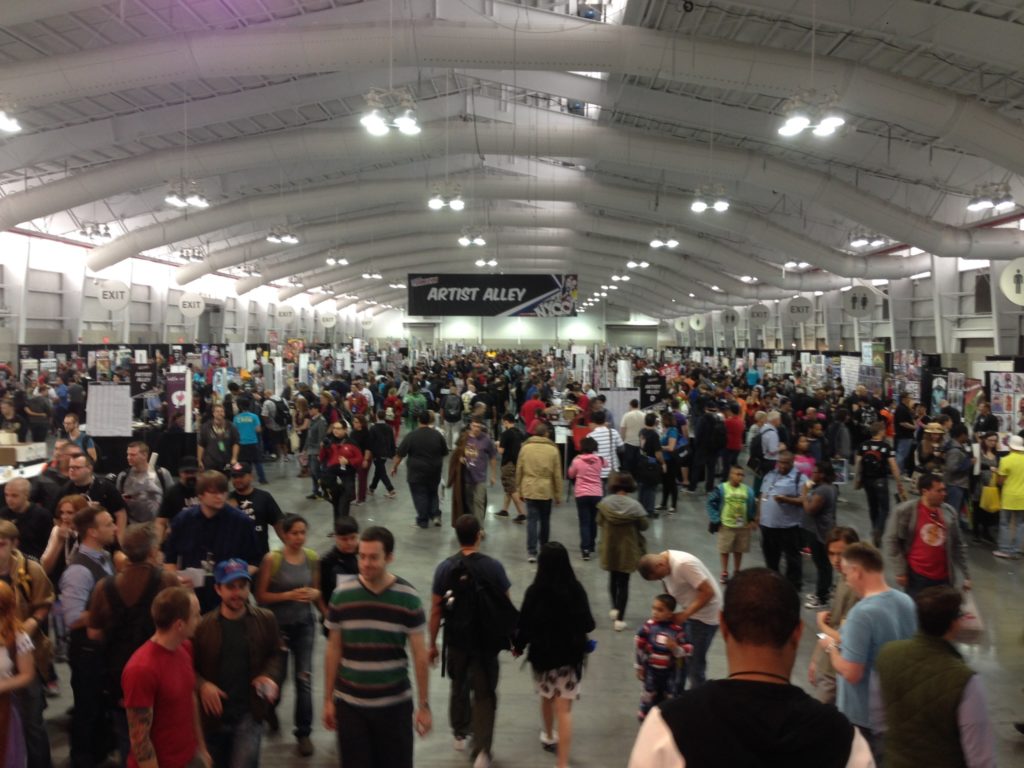 The third and final panel I went to on Thursday was 'How to Succeed in Self-Publishing.' The first panelist to speak was Molly Ostertag, the artist for the webcomic series Strong Female Protagonist. Her success story was in the Kickstarter campaign recently completed to do a print edition of the webcomic, where they ended up raising over $60k when their initial goal was only $8k. She attributed their success to slowly building a fan base over many years before ever asking for money like that. They reached their initial goal within 24 hours. Following her with the exact opposite approach was Morgan Rosenblum, creator of Treadwater. He told his story of failing at his first Kickstarter and having to go back to the drawing board. He has since completed a successful one and Treadwater has now evolved from a comic book to RPG style video game. Morgan was also the first of few different panelists I saw over the weekend to say "two years ago, I was in the audience for this." As someone who is aiming to make it as a writer of science fiction and comic books, these types of stories are encouraging. Also on the panel was Adam McGovern of Dr. Id and Nightworld fame, and Anthony Del Col of Kill Shakespeare fame talked about how their direct targeting of retailers helped them tremendously. The panel was rounded out with Earthman Jack writer Matthew Kaddish, who talked a lot about Amazon search optimization for eBooks with keywords and some of the new book creation tools that Amazon is rolling out.
After rounding out my evening with three back-to-back panels, I was pretty beat and went home to Brooklyn for a good nights sleep. I will will write all about Friday and Saturday in my next two posts.
Originally posted on an older blog.