Nine and a half years ago, I made a rash decision to adopt my friend's dog. I had just moved to New York City and was struggling with the post-traumatic stress of my partner's death only a month earlier. I was living paycheck to paycheck and was not financially ready for it by any means. But a dog I knew needed a home, and deep down I knew that it should be with me. That's how Coeus ended up with me in Brooklyn. There are plenty of things I regret from that period of my life, but this was not one of them.
I have already written about how Coeus helped me come out of my trauma-hardened shell. Dogs are really good at that. They make you forget the existential dread and remind you to live in the moment, even if only for a little while. They force you into a routine and give you a purpose, both of which are great tools to wield against depression. A dog's joy is contagious. Try not to smile when one cocks their head or wags their tail at you. Coeus became my companion in a world that had left me behind. I don't know if I can ever properly express my gratitude for that.
Adopting a dog comes with the knowledge that one day it's going to cause a whole lot of pain. If you think about it, any relationship worth having comes with the same trade-off. For all the years of love and joy, there will inevitably be an ending and it's going to hurt like hell. It's the kind of pain we can anticipate but never be truly ready for. So why do we do it? Why do we open ourselves up when we know it can't last? We do it because, over time, the joy outweighs the heartache. We do it because the alternative is too bleak to stomach.
Coeus had a good fifteen years on this planet. I'm grateful that working from home throughout the pandemic allowed us to spend more time together in his final year. Reflecting back on it, the earlier signs of cognitive decline become clearer. I'm not exaggerating when I say Coy was the smartest dog I've ever had. It started out gradually, with small things that didn't raise any major alarms. But it took a turn for the worst shortly after his fifteenth birthday.
I had never heard of Vestibular Syndrome before it happened to Coues. It was like he suddenly forgot how to walk one afternoon. We thought he was having a stroke because of his pronounced lean. To explain it simply: it's essentially canine vertigo. He racked up a massive hospital bill (thankfully I had insurance to cover some of it) and came back home with us after an overnight stay. We essentially had to teach him how to walk again. It was grueling, but he eventually did. He started taking meds for his high blood pressure, which was the suspected cause. His appetite came back and he returned to his more usual routines within a few weeks, but he was never really the same.
After a few falls, we learned that we had to block off our stairs. He could still walk up the stairs on his own, but only if we were right behind him and ready to help. He would get restless at night and pace. But the most striking thing I couldn't help but notice was the absence of joy. In our last few months with him, I don't think he wagged his tail once. I could get him to play for short bursts, but there was a sense he was just going through familiar motions. I was hopeful that with some time and persistence, we could find that spark again. But we never did.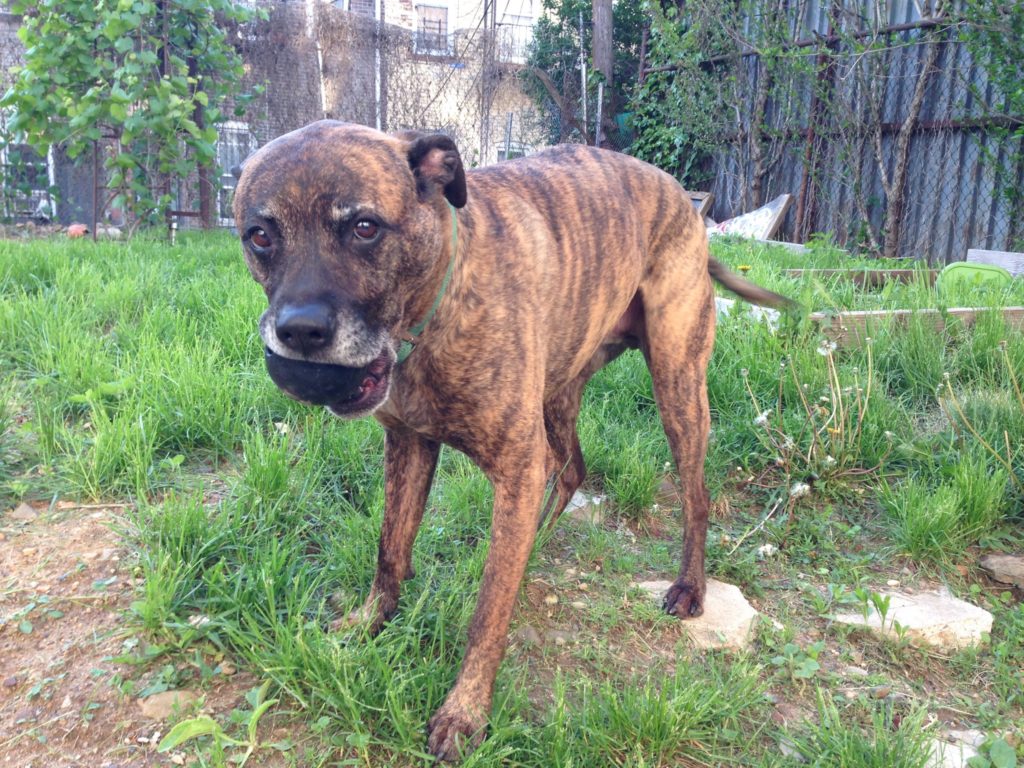 We went a full three months on this new routine without incident, but that ended in early March. He started experiencing mini Vestibular-like episodes, or perhaps they were mini-strokes. It's still not clear what they were or what was causing them. Out of nowhere, he would go from walking fine to completely disoriented. The episode would last for a few hours and then he'd be fine. We adjusted his blood pressure meds, which seemed to work at first. We also did more blood work and an ultrasound to look at a growth on his adrenal gland and were awaiting results.
March 18th rolled around. Dierre left for Ohio, his first time home since last summer. It had been more than a week since Coy's last episode and he was having a good day. He'd had a rough recovery from being sedated for the ultrasound two nights earlier, and I made the decision that night that I would never put him through something like that again. For him, it was like a bad acid trip and simply traumatizing. But he was doing well and I was hopeful that maybe we had a few more good quality months. My wishful thinking told me that being outside more in the coming spring and summer might bring back some of that joy.
That same night he experienced his worst episode yet. He would want to go out and then seemingly forget what he was doing once he was out there. It was freezing and windy as all hell, just to make things a little worse. His condition only deteriorated from there. He soon lost the ability to walk or get up from his bed on his own. I would lay him down on his bed and position him as comfortably as I could, but I could tell he wasn't relaxing or sleeping. When the symptoms didn't go away after a few hours, just like they had for his 3 previous episodes, I knew something was very different. I called and spoke with the vets. There was no quick fix they could give me. I could bring him in for an MRI and more testing, but that was about it. 
I had already said I wouldn't sedate him again, and there was no guarantee that paying for all of these new diagnostics would get us any closer to finding out what exactly was happening. As the hours wore on, his despondence worsened. I couldn't get him to drink on his own, which had never happened before. I had to use my bike water bottle just to keep him hydrated. I knew his quality of life had deteriorated in a way I hadn't seen before. At some point, he had crossed an unacknowledged line in the sand. It's the sort of line that I always knew was there but had made myself willfully ignorant of its meaning. I knew that even if he bounced back from this, he wouldn't be the same. There would be less of him there than there was before. 
I started thinking about the last time I had seen him wag his tail. It had been four months. It was the day after Thanksgiving at my parent's house. Dierre and I had returned from being out, and he had been overjoyed. He had found a tennis ball in their backyard from one of our previous visits and wanted to play. It stuck out to me at the time because even then, before the Vestibular Syndrome reared its crooked head, his moments of joy had grown more sparse. It made me so happy to see him like that. I hadn't realized how much I missed it. Four months later, 24 hours into his latest episode, I knew it was time. I couldn't ask him to hold on any longer.
I reached out to our regular vet. She has always done house calls, and I knew she did a peaceful passage service from the comfort of home. We made arrangements for Sunday. I had Dierre, my parents, and few different friends all assure me that I was making the right call. It's impossible to ever feel certainty about that kind of decision. In the end, it was all up to me. It was a part of the nonverbal agreement I made when I became his person. I brought Coy up in the bed with me for the last night, which was something he hadn't been able to do in a while. I noticed a visible change in him; he relaxed for the first time since the whole episode started.
I put on some light-hearted feel-good movies while he slept beside me. He only got me up a few times during the night to have me help him move. Side note: this whole ordeal has turned me into a light sleeper; something that might shock anyone who has ever lived with me. But he had an overall good night. The next day he was something closer to himself. He drank water on his own and was able to walk without assistance in the backyard. It was enough to make me freshly question whether or not I was making the right call. But I knew it was still the right time. If anything, it was good to send him out on a better note. 
It was a beautiful Sunday afternoon. The first day of spring. I had the windows and backdoor open. I set him up on the bed as comfortably as I could. I took a badly needed shower, having to set up a video call on my laptop and taking my phone into the bathroom so I could hear if he was trying to move. As I was sitting with him and waiting for the vet to arrive, I texted her and told her I was ready, but that was a lie. I was reminded of the song "I'll Never Be Ready" by Veridia. It felt so true at that moment. You can prepare all you want but you can never be ready for something like that.
Dr. Loose was amazing. She's been Coy's vet for the last eight years. He knew her as the fun friend with hidden toys in her backpack. He would always knock her bag over looking for them, and help himself when he found them. I laid next to him the entire time, my face to his, all the way through the end. I ugly cried after I felt him take his last breath. And then it was over. The vet covered him and took him out, and then I was alone in an empty apartment. All of the toys, treats, and water dishes were still sitting there. The signs of him were inescapable.
I talked to Dierre and took a long walk to my friend Matt's place. I needed to get out of the house. I had been cooped up doing round-the-clock dog care for 72 hours and it had just ended in the hardest way imaginable. I listened to Sketchie's Rain by High Lantern on the long walk over. It's really a perfect album for indescribable feelings. It's all electronic with no words, and yet there's so much emotion in it. Matt and I talked about Coy and what had just happened, plus a million other things. It was nice to talk about and think about other things. I had some whiskey. I promptly passed out when I got home, leaving the bodega sandwich I had bought on the kitchen counter uneaten. It was my first full night of sleep in a week.
When I woke up, I felt lighter. I was sad, but no longer had the weight of indecision barreling down on me. I started going through old pictures and was struck by the joy in Coy's expressions as he played fetch and squeezed himself into laps he was too big for. It was only then when I knew I had made the right decision. Coeus was a dog who lived for playing fetch. He loved meeting new people and coaxing them into throwing a slimy spit-covered ball for him. He had no sense of personal space when it came to cuddling. He had a good life, but it was the right time to let him go.
Saying goodbye to Coeus was one of the hardest things I've ever done. It was always going to be. It's one of those eventualities you accept when you adopt a pet. I can say with conviction that the heartbreak was worth it. I've had dogs my whole life. This is a pain I will subject myself to over and over again as long as I live. Before Coeus there was Tucker, and before Tucker, there was Jasmine and Misty. Each one trusted me implicitly. Each one brought me joy. Each one challenged me in unexpected ways. Each one made me a better person.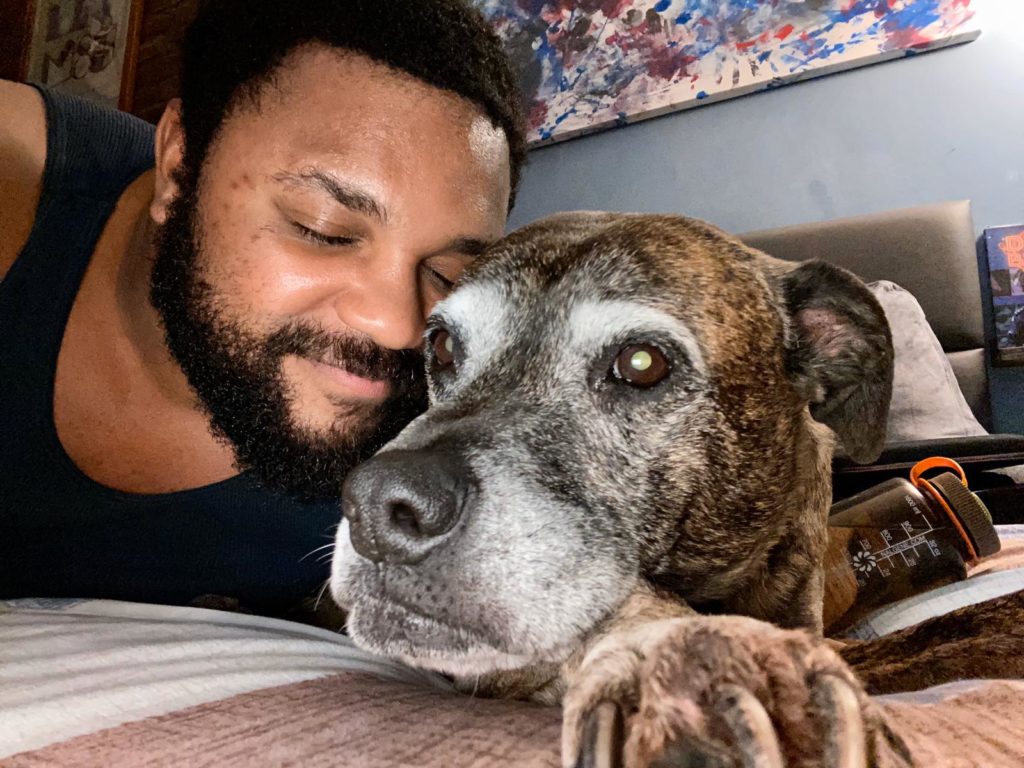 This past weekend, we brought Coy's ashes to Oneonta. It was where TJ had first adopted him, and where he and I first met. It was fitting that his closest people returned him to his first home. I miss him every day, but I have made peace with his absence. Dierre and I will adopt again. We needed time to grieve. We needed space from the weight of those last few months. Adopting is not a decision we make lightly. But when the time is right, we will be ready for it.