Flame Con
August 20 & 21, 2022
Sheraton Times Square
New York, NY
Overview:
After buying my half table in 2019, I finally got to participate in what was supposed to be Flame Con 2020. It was a fun surprise walking in on the first day and finding out I would be sharing my table with none other than Joe Corallo. The Geeks Out organizers took additional precautions due to the ongoing pandemic. Mask and vaccination were required, and tables were spaced out much more than they had been in previous years. I hate wearing masks as much as anyone, but Con Crud was a thing before COVID. I think it's a good call for conventions in particular to take additional precautions. It was really wonderful seeing so many familiar faces and catching up with friends I haven't seen in years. I came home with a few new books and even more recommendations. By the end of the day on Sunday, my social battery was running on fumes. Dierre and I had just moved from Brooklyn to the Bronx earlier in the month, and I had yet to take a true day off in close to a month at that point. To say I felt burnt out is an understatement. I had already made a decision to step away from tabling at shows in 2023, and this weekend confirmed for me that now is absolutely the right time to do so. It's not because I had a bad experience. I may even come back next year and volunteer. I just need to get some fresh perspective on this whole book-slinging business and shift my focus back to what brought me here in there first place: my writing.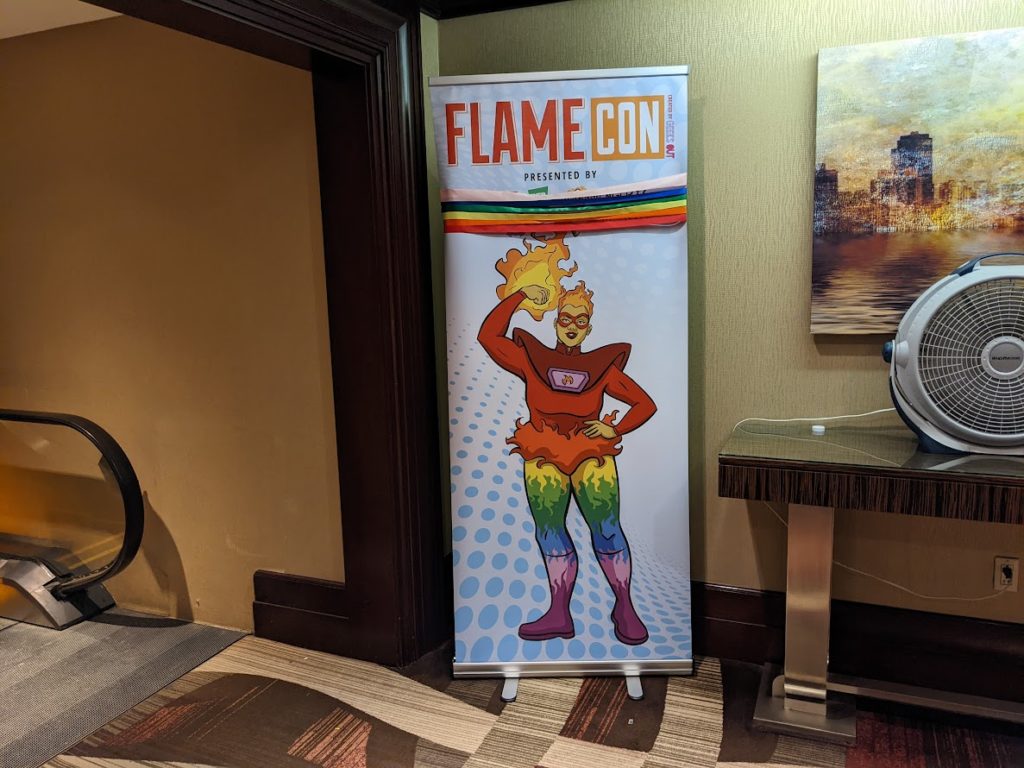 Highlights:
•  I had a nice heart-to-heart with my friend Gabe over drinks at the end of Day One.
•  There was lots of eye candy in tight spandex costumes. What can I say? I love geeks and I love spandex, and Flame Con offers plenty of both.
•  Bradley Robert Parks from the Brooklyn Speculative Fiction Writers stopped by with his husband to say hello. We've been on Zoom calls together in the last few years, but it was nice to see Brad and hug him in person while we geeked out about books.
•  I picked up a copy of Young Men in Love, which just came out this year from A Wave Blue World. I thought I had backed the Kickstarter, but it was never on Kickstarter. All of my memories have started the process of blending together. I think I was confusing it with Joe Glass's Miracles.
•  Tabeling next to Joe was great. We hadn't been able to hang out since November so it was nice getting to catch up on our downtime. There is a not-so-subtle art to drifting in and out of conversations as people come and go from the table.
Sharing a table with the one and only Joe Corallo.
•  It was really wonderful seeing Cameron Wallace for the first time in probably three years. Fun fact: he and I almost collaborated on my "Euphoria" comic. We may yet collaborate on something in the future. 
•  It was also wonderful to see Bee Kahn, Kyle Anderson and Lena Green from Doable Guys, James B Emmet, and Christopher Dillen Phelps.
•  It made me sad but also warmed my heart to see the Anyone Comics display up front featuring the late John Jennison's work. I know his absence from this year's show was felt by everyone that knew him.
•  I sold the last few remaining copies of the first "Euphoria" print run. My new batch, which was supposed to arrive before the show arrived almost a full week later. I was quite annoyed with the delay, but I am happy with how the second print edition came out. I'll have plenty of them at Baltimore Comic Con in October!
•  The GeeksOUT crew was wonderful as always. I loved it when Nic Gitau and Kevin Gilligan stopped by our table to see how we were doing. Kyle Danger was volunteering while dressed as a bedazzled Tuxedo Mask (apologies if I'm forgetting a more clever pun in the actual costume name). It's amazing how many shows don't take this step to check in on their vendors, and I always appreciate the ones that do.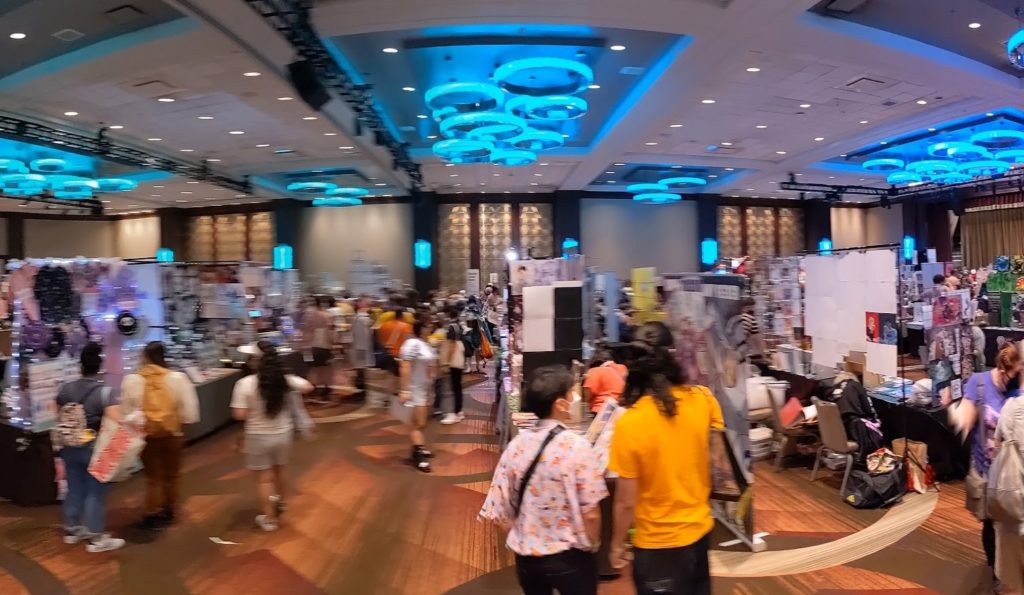 My attempted panoramic shot of the floor didn't quite work but it still came out pretty cool.
Would I go back?
I will always go back to Flame Con in some capacity. I'm more likely to volunteer or go as a guest next year. Or maybe I'll be brave enough to do some spandex cosplay of my own. I mean. it's one of my favorite shows for a reason. I need to take a break from vending to recalibrate and focus on creating, but nothing beats the atmosphere and community that comes about with Flame Con.
And finally…
Obligatory Convention Selfie