Showing off my badass new Batman pajamas circa 1990.
Nostalgia can be a really powerful force. It's what has driven me to keep old journals, song notebooks, and stories. It's why I've been slowly making my way through every episode in every series of Star Trek for the last five years. Most recently it has led me to revisit some of the books that enthralled me when I was younger; namely the Star Wars, Goosebumps, and Fear Street variety. I would say this is all something new for me, but the reality is that it's been happening for quite some time. It's become a way for me to revisit the stories that first awakened my imagination and inspired me to start writing on my own.
I know I'm not alone on this sentiment by any means. Nostalgia is largely responsible for the success of shows like Stranger Things and revival properties like The X-Files. I would even attribute nostalgia to the root cause of the toxic nerd rage that has been plaguing the Star Wars fandom. I think the sentiment really took hold of me about 5 years ago. It started with tracking down the box set of Unsolved Mysteries DVDs through Netflix. I'm fairly certain that Robert Stack straight-up narrated some of my earliest childhood nightmares. The ghost stories in particular scared the shit out of me. Around that same time, I started watching The X-Files from the beginning.
This was soon followed by my decision to start watching all of the old Star Trek shows, starting with The Original Series before making my way through The Next Generation, Deep Space Nine, and all ten of the pre-reboot movies. I'm currently in the sixth season of Voyager, and will eventually watch Enterprise in spite of its terrible theme song. I even rewatched the "essential" episodes of Mighty Morphin Power Rangers. Thankfully the excellent reboot comic book series from Boom Studios has been doing an excellent job at scratching that itch for me.
I didn't start with the reading nostalgia until Reader Con in 2015 rekindled my love for books. That, along with the prospect of the new Star Wars movies, prompted me to dive back into the New Jedi Order series. The reboot of the canon got it in my head that I should read it to its chronological end. I even roped my friend Seth (co-host of the podcast Checked Out) into reading them with me. I tried to figure out some way to blog about that journey but never found a consistent or enjoyable way to do it. I'm still reading the books, though.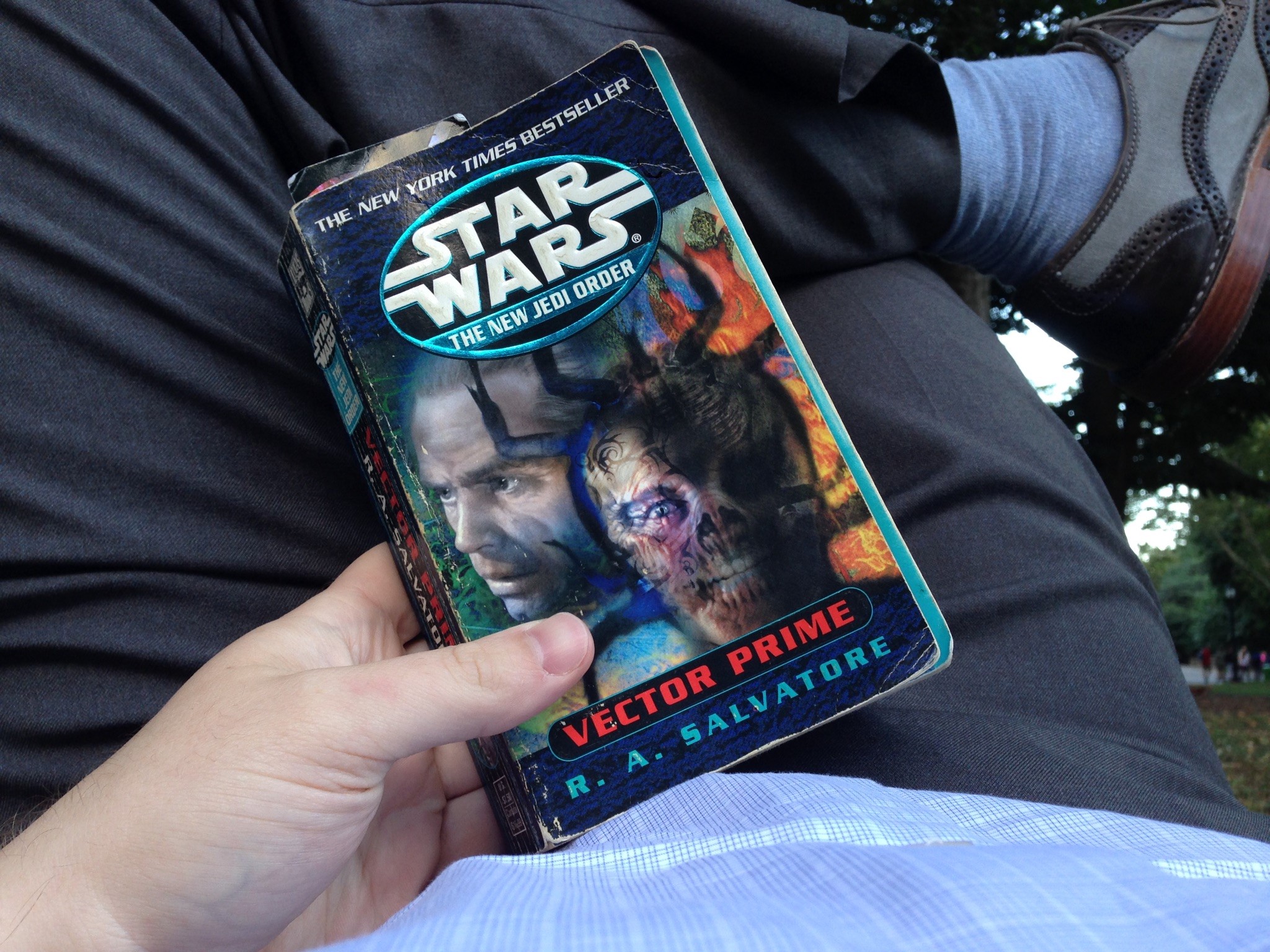 Reading in Central Park circa Summer 2015.
All of this has led me to my latest nostalgic endeavor. Much to Dierre's dismay, late last year I started collecting a number of Goosebumps and Fear Street books. What started as me wanting to re-read a few of my favorites quickly turned into "No, that's too easy, you must read all of them." I compromised with myself and quietly set out to read the entirety of the Goosebumps series as well as a solid chunk of the Fear Street books. To keep things complicated I'm throwing in a handful of Christopher Pike's Young Adult horror novels, most of which were similar to but significantly darker than Fear Street. I definitely should not have been reading any of them in fourth grade, but my hometown library didn't stop me.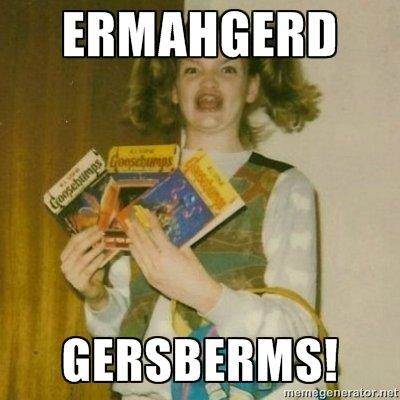 Starting next week, I will be posting the first of several reviews of the B-horror novels of my youth, trying to recapture some semblance of that sense of wonder. Seeing what holds up and what falls short. Adding to the fun, every episode of the Goosebumps TV series is available on Netflix, so I'll be including my take on that. I mean, who doesn't want to hear what I think about preteen Ryan Gosling's bowl cut? I have done my best, and I believe I've found an entertaining way to share it all with the world. Expect memes, snarky observations, and serious evaluations of ridiculous concepts. It all starts next week.
So without further adieu…
This is what I've got lined up for 2018.