This is where I list and write about the books that I don't review on my blog. I've included a few of the nostalgia books on this list in earlier years but opted not to this year. The Midnight Club, The Beast, and The Christmas Killer could have all been contenders. But this year I read a lot of great novels and comics that I wanted to give my little spotlight to.
Follow me on GoodReads (and like my reviews, cause that gets me traffic on here).

10. The Changeling
by
Victor LaValle

.

The best horror is rooted in real fear, and this book is a nightmare scenario for any parent.

9. The Autumnal
by Daniel Kraus, Chris Shehan,
Jason Wordie & Jim Campbell.
Suburban horror at its finest with some truly gorgeous art to boot. It was a perfect early fall spooky season read.

8. The Hollow Places
by T. Kingfisher.
I didn't like it quite as much as The Twisted Ones, but it was still another excellent horror novel from T. Kingfisher

7. Winter's Orbit
by
Everina Maxwell

.

Stumbled upon this book at Powells in Portland. I love some gay romance mixed with complicated sci-fi world-building and politics.

6. Tranny: Confessions of Punk Rock's
Most Infamous Anarchist Sellout
by Laura Jane Grace with Dan Ozzi.
Burned through this audiobook. Loved getting the story behind the music and the first-hand account of Laura's unique story.

5. Leviathan Wakes
by
James S.A. Corey

.

After loving the show and wanting more, it finally occurred to me that I could do the full nine-book Expanse series as audiobooks. It was the perfect call.

4. Metalshark Bro
by Walter Ostlie, Bob Frantz,
Kevin Cuffe, & Chas! Pangburn.
Heavy metal, sharks, and Satan with a doctorate. This book checks so many boxes on my imaginary list of favorite things. This is the pure fun that comics are supposed to be.

3. Project Hail Mary
by Andy Weir
Did this one as an audiobook while painting our new apartment. I have a soft spot for super-nerdy hard sci-fi with lots of math, and Andy Weir has delivered.

2. Ascender
by Jeff Lemire, Dustin Nguyen
.
My only complaint about this series is that I wanted more. I can't get enough of this world and Dustin Nguyen's stunning artwork.

1. The Brother's Bishop
by Bart Yates.
Dierre had been on me to read this book and I'm glad I finally did. It's not a book for everyone, but it's a book unlike any I've ever read. Messy characters are the bread and butter of good literature, and these are some of the messiest. I couldn't put this down or get it out of my head.
Honorable Mentions:
As I said, lots of good books this year. There are always a few that don't make the cut but could have made it any other year.
Under the Whispering Door

by TJ Klune
11.22.63
by
Stephen King
Gender Queer
by
Maia Kobabe
Coven
by Jennifer Dugan & Kit Seaton
Kick-Ass Ongoing Series:
Some great ongoing comic series that I genuinely can't get enough of, except for Hellboy which I feel like I got exactly the right amount of.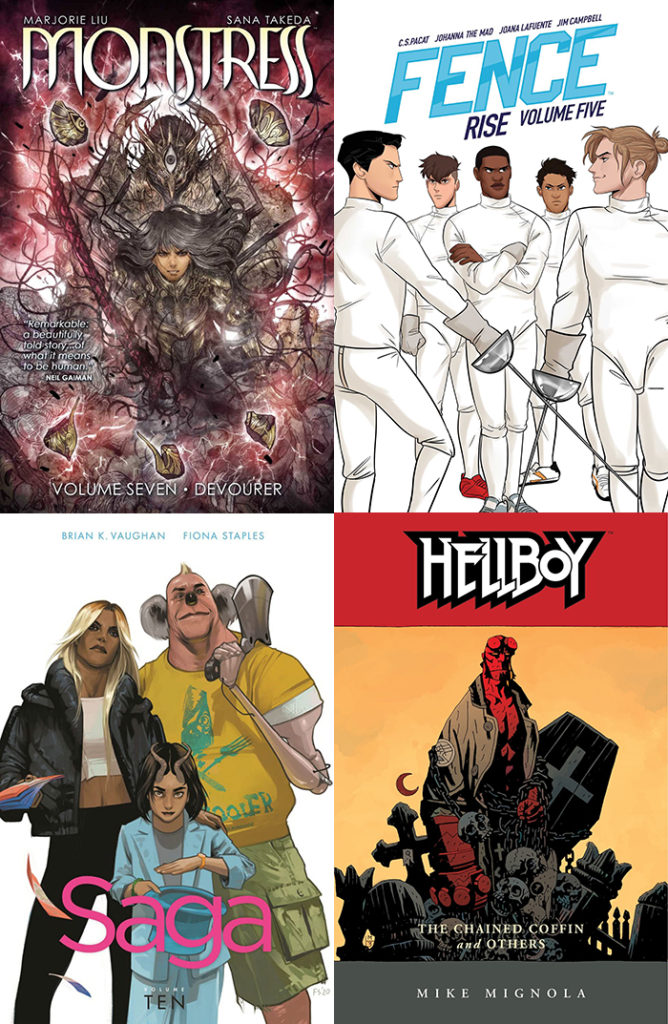 Monstress

by
Marjorie M. Liu
&
Sana Takeda.
Fence
by: CS Pacat, Johanna the Mad,
Joana Lafuente, & Jim Campbell.
Saga

by: Brian K Vaughn & Fiona Staples.
Hellboy
by: Mike Mignola & Various Writers
.