I fell short of my reading goal this year, but I still managed to read some great stuff. Finished an epic trilogy, listened to som great audiobooks, and some excellent horror. Many of these books did not come out this year; my lists are based on when I read them. If I could read faster I'm sure it would be more current.
Follow me on GoodReads (and like my reviews, cause that get me traffic on here).

10. How Fascism Works
by
Jason F. Stanley

.

This was some really good insight into what fascism actually is and how it functions, starting with the mythic past and the throughline of dividing the working class against itself. This was a quick audiobook, and highly recommend it even if you think you already know what fascism is.

9. Flowers For the Sea
by
Zin E. Rocklyn

.

Flowers For the Sea is is a fantasy-horror novella that really packs a punch. I particularly appreciated the way Rocklyn called upon all five senses in bringing the story to life on the page. The use of scent, in particular, created a visceral sense of foreboding and tension. It really elevated the body horror elements to a new level.

8. Hollow Heart
by
Paul Allor

&

Paul Tucker

.

I would describe Hollow Heart as a queer body horror romantic tragedy. Or you could call it a modern-day gay Frankenstein with robots. Either way, clearly it was my cup of tea. It touched on elements I'm exploring in my own writing, and it's an excellent demonstration of what can be accomplished in the comic book medium.

7. Surrender Your Sons
by
Adam Sass

.

Conversion therapy is one of those true horrors that still exist in our world, and Surrender Your Sons tells a fictionalized story about them. This is more than yet another queer victim narrative though. It puts its characters through hell and doesn't pull any punches, but there is an underlying theme of queer resilience at its core.

6. The Low, Low Woods
by
Carmen Maria Machado,

 

DaNi, & Tamra Bonvillian

.

If you're noticing a queer body horror trend on this list, that's because there is one. This was the first graphic novel I've read on the new Hill House line, and I was not disappointed. The Low Low Woods does a fantastic job at using the isolating experience of queer people in small towns as fertile ground for a horror story.

5. Empire of Gold
by
S.A. Chakraborty

.

The epic conclusion to the wild and fantastic Daevabad trilogy. As much as I love The Witcher series on Netflix, Lord of the Rings, and the First four seasons of Game of Thrones, I long to see more fantasy that is not predominantly white and Eurocentric. This is an excellent, character-driven foray into exactly that sort of world.

4. Slaughterhouse-Five, or the Children's Crusade
by Ryan North, Kurt Vonnegut Jr., Albert Monteys.
Kurt Vonnegut's Slaughterhouse-Five was already one of my favorite books. Ryan North & Albert Monteys's adaptation might have some asking why, but if you give it a chance you will see that it uses the medium to elevate the story without diminishing the source. That's a tough balance to strike but they really nail it.

3. Daring Greatly
by
Brené Brown

.

I was really struck by Brené Brown's The Call to Courage on Netflix, and so I started this audiobook immediately after. Being an artist of any kind is to be vulnerable. Putting your work out for the world to see (and to love, hate, criticize, and ignore) is an act of courage in and of itself. I can't recommend this book enough to other writers and creative types. 

I got into Gail Simone after really digging her Batgirl run, so Clean Room was the first non-franchise story of hers that I have read.. It was cut short due to the unfortunate dissolution of Vertigo Comics, but the creative team here still made it work, and exceptionally well at that. This is creepy Sci-Fi/Horror at its best.

1. The Twisted Ones
by T. Kingfisher.
I forgot how much I loved the narrative voice of T. Kingfisher (AKA Ursula Vernon). The Twisted Ones had me laughing out loud while making my skin crawl. It was delightfully weird memorable characters and I couldn't put it down. Some of the best fun I've had while reading in a while. Can't wait to read more of her horror.
Honorable Mentions:
A few of the books that missed the cut for the top 10. It's hard to narrow this list down to just 10; I had 80 books to pick from. But I read my first Stephen King novel, plus there was adreinne maree brown's first work of fiction, and I've talked to my fellow gays about The Velvet Rage more than any other books I've read this year. They're not in my top ten for various reasons, but they left an impact just the same.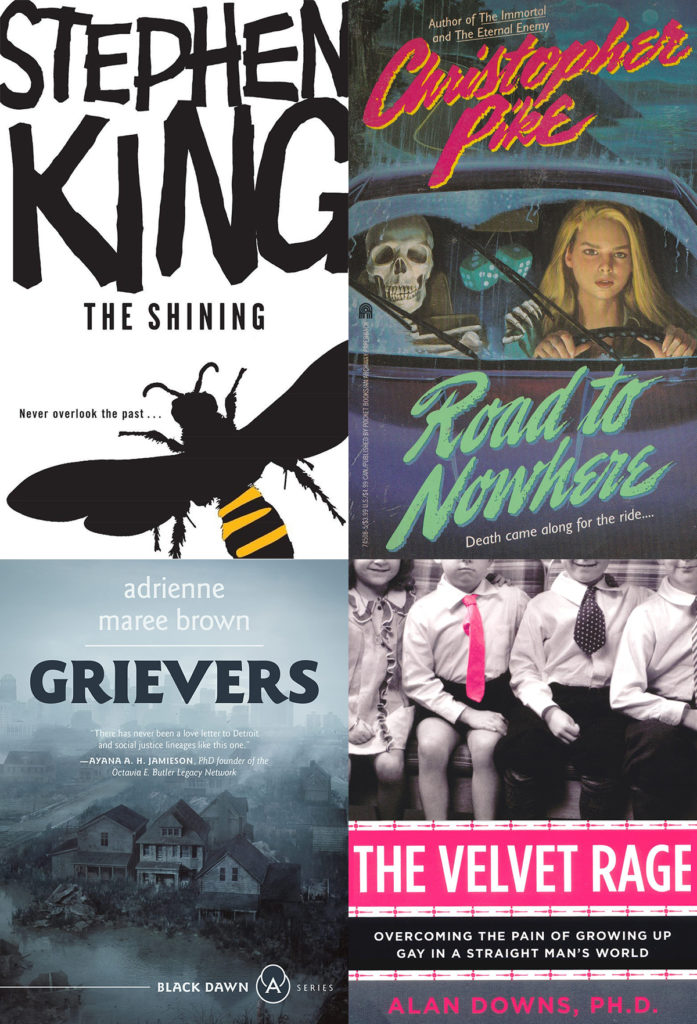 The Shining

by Stephen King
Road to Nowhere
by
Christopher Pike
The Velvet Rage
by
Alan Downs
Grievers
by a
drienne marie brown
Kick-Ass Ongoing Series:
The original run of Power Rangers that was my top favorite in 2017 finally finished up, and Monstress came out with two new volumes that I somehow missed!? Had fun getting into the Valiant universe for the first time, too.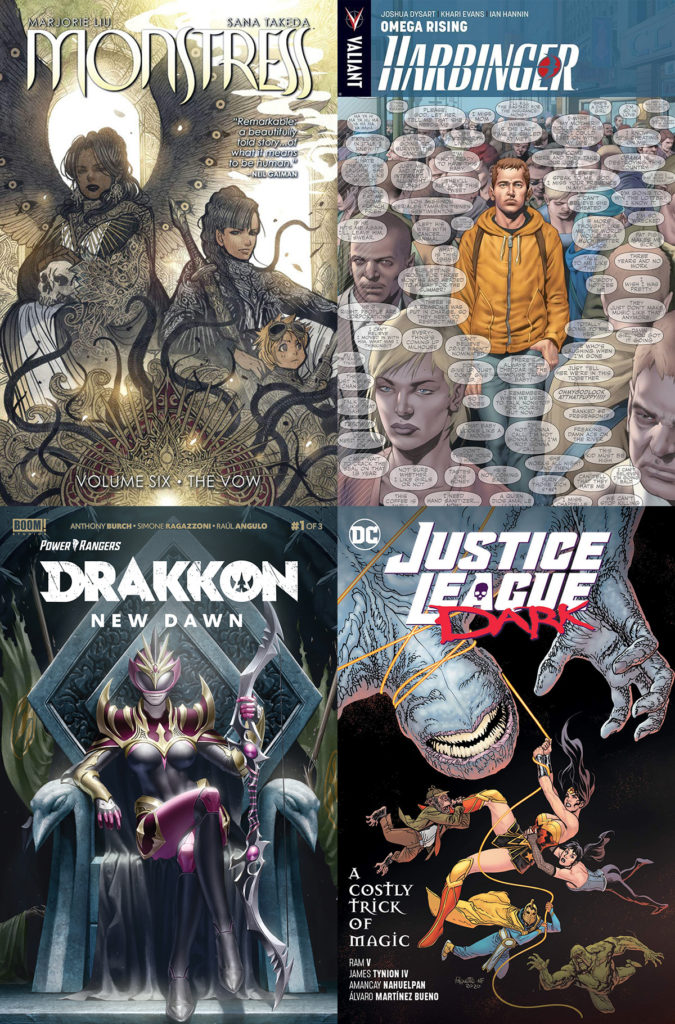 Monstress

by
Marjorie M. Liu
&
Sana Takeda
Justice League Dark
by: James Tynion IV, Ram V., 
Álvaro Martínez Bueno & varios other artists.
Harbinger
by: Khari Evans, Lewis LaRosa, Ian Hannin,
Philippe Briones, Barry Kitson, Lee Garbett, & Matthew Clark.
Mighty Morphin Power Rangers
by: Ryan Parrott, Daniele Di Nicuolo, Walter Baiamonte
& various other artists.