Me at peak tourist, #touristAF.
I landed around noon in sunny Barcelona, and easily found my way to my friends Anton & Sion's apartment. We went out for a delicious lunch at Dual Cafe. It was nice catching up and talking Drag Race drama. After that, Anton and I wandered around the beautiful labyrinth known as the Gothic Quarter. It was difficult to capture on camera so I eventually stopped trying. There's nothing quite like it in the States, where the old world meets the new in such profound contrast. I made a point to go back there before leaving. I also got my picture taken with this El Gato del Raval statue by artist Fernando Botero. After a few hours, we walked back to the apartment, and I took a much-needed nap.
El Gato del Raval
It was difficult waking up, but I pushed through it. I joined Anton, Sion, and a large group of their friends to go see Hereditary at Phenomena. We got there early and ate dinner at the pizza place across the street. For those of you who have not seen it yet; Hereditary is one of the scariest horror films I have seen in a long time. Everything from the writing to the acting, and the sound production – it all worked in cohesion to make for a truly jarring experience. So many horror movies fall victim to tropes or rely on their characters making stupid decisions to make their plot. Hereditary did neither, and it never went where I expected it to. I loved it but I also slept with the lights on that night.
In spite of the horror, I had an amazing night of sleep. I did the math afterward and realized that I had not had a true day off in 12 days. Usually, I like to maximize my time when I'm in a foreign country for the first time, but sleeping in is exactly what my body needs. I have no regrets. I had a nice lazy day; I planned out the rest of my trip and made the appropriate bookings, then headed to the beach. I ended up going to Mar Bella, which has a 'clothing optional' section and swam naked in the Balearic Sea. I read a little, wrote a little, and found a rose petal in the waves that I decided to keep between some of the pages in my notebook.
Mar Bella beach
After I got back, I helped Anton and Sion fix their broken deck umbrella, then showered and joined them for dinner at Bacanal Cafe. It was again delicious. Every place they recommended throughout this trip was delicious. I will always trust their recommendations on food. That night was the Festival of Sant Joan, which meant street parties and lots of random fireworks explosions in the streets. Not unlike the Fourth of July in Bushwick in that respect.
They took me to a friend's birthday party, where I met lots of new people and had some interesting conversations. I really respect the hell out of people who can speak multiple languages. It makes me regret my own inability to become proficient (I can sort of read, and even less so write, in Spanish). English was the common denominator in this group so I didn't feel excluded; I was just in awe of the way people can switch between languages so seamlessly. We headed out to a Street Party after. I didn't stay out too long so I could prepare for the following day, which was starting bright and early.
Festival of Sant Joan
I woke up early on Sunday and briskly walked to Plaça de Catalunya to catch the bus to Montserrat. Montserrat is an interesting geological formation and home to a world-famous monastery at its peak. I ended up in a tour group of mostly American tourists; our tour guide Borja was great. We got a lot of background on the monastery itself and got to briefly watch the boy's choir perform at the noon mass.
After that, we were given free time to explore, so I walked out to one of the far peaks. I went a little too far at first but got some great views out of it. I also did a tasting of the different liqueurs they make at the monastery. I was a little pressed for time in choosing which ones to buy, but they were all really unique and tasty. If I had brought a larger suitcase, I would have bought more back with me.
Montserrat
After the monastery, the tour bus took us out for a traditional Catalan lunch. I regret making my preference for no dairy known because I was given an eggplant-based meal that looked nowhere near as good as the cheese-covered meat dish everyone else got. Next time I'll just travel with Lactaid and keep my mouth shut.
From the restaurant, we walked to the vineyard Oller del Mas for a wine tasting. I didn't care for any of the wine (I'm not much of a connoisseur to begin with) but we got a nice view of Montserrat on the horizon. It was also really cool walking through the wine storage in the basement of the old castle. The bus ride back was relatively quick and painless. I ended up getting dinner at an Indian restaurant because every Tapas place I initially tried was closed for San Joan festivities. It wasn't the best I've had but it was still good.
View of Montserrat from Oller del Mas.
I then hurried over to the Magic Fountain, which only turns on for an hour around dusk. I'm glad I made the time for this. There were crowds of people everywhere. There was classical music playing, children were dancing, and assholes like me were taking selfies. The fountain itself spins and changes form along with the music, and it sits at the foot of the steps leading up to the Palau Nacional.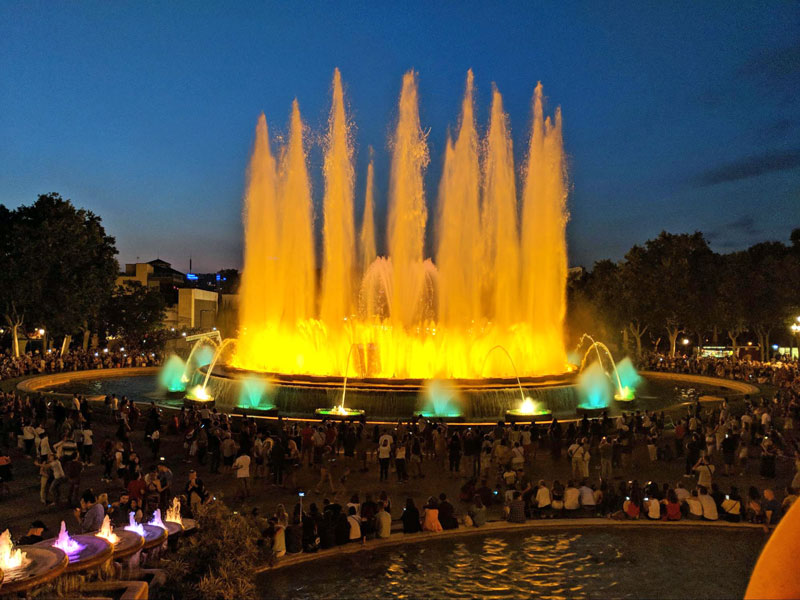 The Magic Fountain
I walked all the way up to the top, taking in the view and snapping lots of pictures along the way. It was nearly a full moon and the lights were truly majestic. Roughly one hour after it all turned on, everything was abruptly switched off. Street performers and merchants lined the streets on the walkway out. I caught a beautiful performance of a trio with an acoustic guitar, bass, and electric violin. By the time I got back to Anton and Sion's place, I had walked over 30k steps that day.
Palau Nacional under a full moon.
I planned another packed day for Monday. I started out by taking the Gondola to Montjuic. The view on the way up was cool, but Barcelona isn't much of a majestic skyline kind of city. It was cool spotting the Sagrada Familia from up high, though. The castle itself was pretty but underwhelming. I guess I prefer my castles to be on the creepy and gloomy side.
From there I took the train across town to go to Casa Batllo, the first of two major works by Antoni Gaudi that I would be seeing that day. It was a trippy experience, like an underwater visit to The Cabinet of Dr. Caligari. It's difficult to imagine it was once a living space. From there I grabbed some lunch at a nice tapas place called Vinitus and got some amazing gelato for dessert at DeLaCrem around the corner. Thankfully packed the Lactaid for that last part.
Casa Batllo interior.
Next up was supposed to be the Sagrada Familia. I walked all the way there only to find out that I bought my tickets for the wrong day. They told me there were no more tickets available and gave me information to get a refund (which I did eventually get just last week). I wasn't about to let that deter me, though. I sat down on the sidewalk and pulled up their website. Somehow I found one ticket still available for later that evening and snagged it. I now had a few hours to kill, so I headed over to the Gothic Quarter to wander and find gifts for people. I finally managed to get a few decent pictures this time.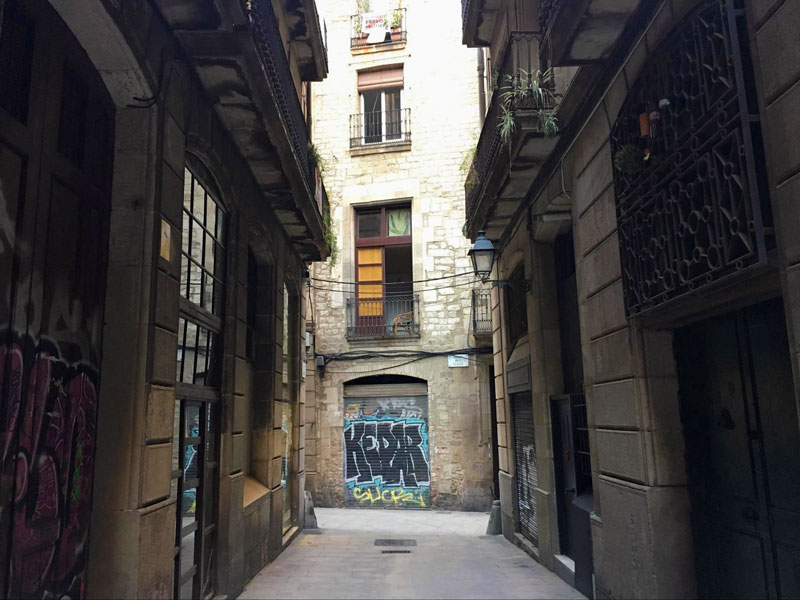 Gothic Quarter
The Gothic Quarter is a great place to just aimlessly wander. I found some nice weird t-shirts and stopped by Hofmann Pastisseria which my friend Lamar recommended. I also wandered through the Gothic Quarter sex shop because why wouldn't I wander through the Gothic Quarter sex shop? It was pretty standard for the most part, but they did have a display case of wooden dildos and I can't say I've ever seen that before.
Then I headed back to the Sagrada Familia. I'm glad I got it all sorted out because while the exterior is striking, the interior is absolutely stunning. The pillars are all designed to look like trees and light filters in as though you're walking through some alien forest. I also didn't realize that it was still unfinished. The cranes everywhere made it difficult to get that perfect tourist selfie, but it will be really cool to make it back someday when it's all done. I hope they hit their 2026 deadline.
Sagrada Familia interior.
After going to the top of the Passion Tower, I took the train back to the Gothic Quarter for one last pass-through, then walked back from there to Anton and Sion's place. We went out to dinner at Fàbrica Moritz Barcelona. After that, it was time to pack, which meant figuring out how to fit all of the booze and gifts into my bags.
My flight home ended up being delayed by an hour, which meant a little more time to sleep in. I must say I am not a fan of the Barcelona Airport. It took me a long time to find the Delta counter and the information desk gave me bad information. The terminal my flight was leaving from only had one place to get food and water while waiting, and it looked like there were only 2 people working. I eventually gave up on that unmoving line. I did however get a fair amount of writing done on the plane, which felt nice. I watched (and thoroughly enjoyed) Gone Girl as my reward.
All in all, it was a wonderful trip. I packed a lot into four days. Anton and Sion were wonderful hosts. I only wish my timing had worked out better with their schedules while I was there – and I regret not taking a picture with them! My first trip to London three years ago awakened a sense of adventure in me that I didn't know was lying dormant. It's so easy to grow complacent in our day-to-day routines, which isn't a bad thing in and of itself, but it's something that needs to be shaken up every now and again. There's nothing else quite like the awe and wonder one finds when experiencing something new.
Obligatory tourist selfie in front of the Sagrada Familia.