When I am driving by myself and in a stressful amount of traffic, I am really good at going in the opposite direction that the GPS tells me to do. I did this no less than three times on my drive out to Pittsburgh for 3 Rivers Comic Con. Nothing like making a long trip even longer. Thankfully I had plenty of music and podcasts queued up. I ended up starting The Black Tapes and the second season of Serial, both of which turned out to be great.
I arrived just in time to get dinner with my friend Tom Charles Bair III, who was the copy editor for the first three chapters of Dream Crasher. Dinner was with his partner Allie, as well as his mother and brother who were visiting. We had some great conversations that ranged from 90s sitcoms and the demise of laugh tracks to the upcoming royal wedding. I ultimately called it an early night so I could wake up early to setup my table.
3 Rivers Comic Con is hosted in an shuttered department store in a nearly abandoned shopping mall complex. It gave the convention a unique Dawn of the Dead feel, which I was a fan of. The only downside to this was no cell service and very limited wifi. All in all I had a pretty solid first day. Being by myself I didn't get too much of a chance to walk around; as a vendor I've found it's easier to save that for a slower day two.
There was supposed to be an after party that I ended up not staying for, but it did give me a chance to wander through the largely vacant shopping mall. I happened upon what looked like a sectioned off transmutation circle. The sign in the middle said: "OUT OF SERVICE. NO ACCESS." I couldn't figure out what the intent was behind it, but it could make for an interesting story prompt.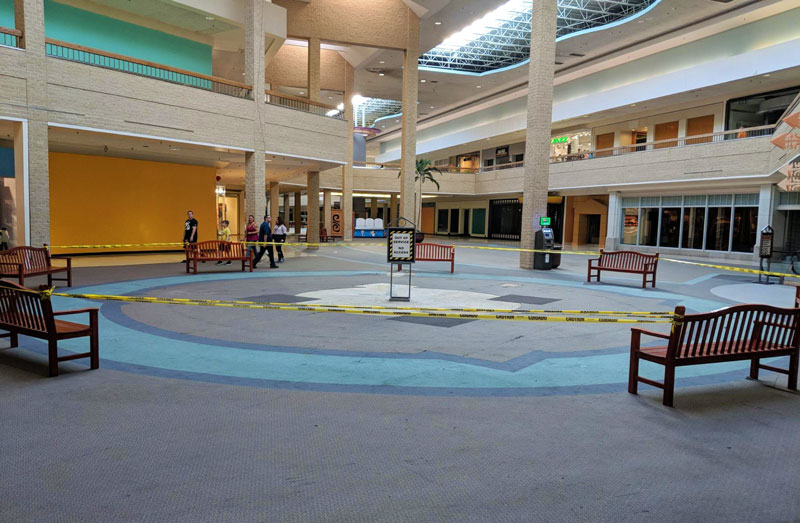 I went back to Tom and Allie's place, where they were hosting a game night. After I tracked down a place to eat, I joined in on some Pictionary. I learned that some people are freakishly good at this game. There was also some charades and Heads Up towards the end of the night. The Accents deck in Heads Up prompted a conversation on race, not because of anything specific that happened but because of the potential for it to easily devolve into racial stereotypes.
I want to say something here, but not specifically about the conversation that happened that night because it was private. I think it's really important that these sorts of conversations happen. Specifically white people need to have difficult conversations about the complexities race with other white people. We need to take ownership in our own complicity. We need to interrogate our assumptions and not be afraid to ask each other questions when we don't understand. It can be painful, confusing, and awkward, but it is absolutely necessary.
It was a heavy note to close the night on, but I'm glad that it happened.On a lighter note, Tom and Allie have a puppy who looks a lot like Coeus (minus the colors). I always miss my dog when traveling so I was happy to give Marge lots of attention.
Day two was slower, but not (Dawn of the) dead. Which just means it was an excellent day for getting some writing done and walking the floor to meet some other creators. I ended up writing a very rough first draft of a new script that's been on my list for awhile. After that it was time to make some rounds. I got to catch up with Andrew Taylor and his wife Grace, whom I met at Baltimore Comic Con. Their daughter was competing in the cosplay contest. For those of you who don't know, Andrew makes the comics Gravity Girl and Potential.
I met Shawn Gabborin, the Editor in Chief at Action Lab Comics. We talked B-Horror franchises and I picked up the first two volumes of his Puppet Master series (which were a really fun read and already have me tracking down the movie series). I had a great conversation on horror with writer S. Louis King and picked up a preview copy of Saturday Night Slasher. I traded some Dream Crasher for a copy of Sycamore Hollow by Gary Morgan. He's got a whole bunch of beautiful paintings as well. Brendan Hykes and I talked about self-publishing and the perils of Kickstarter. I picked up a copy of his book Tales of the Damned.
I spent a lot of time talking with Jay E Fife and his partner.  They were at the table was across from me. I also met Frankie and Kayla of ComicManiac Designs at the table next to mine. It was their first time tabling a convention. Towards the end of the day I also met Gabrielle Burke, who was dressed as Animated Series era Harley Quinn. I picked up a preview copy of her comic Watch Out. Stacie Pinsoneault stopped by just as everyone was starting to break down, and I ended up trading some Dream Crasher for her and her husband Nathan's comic Mister Marsh.
After breaking down I made the decision to sleep in my own bed that night. This meant I had to make the 6 hour journey back to Brooklyn that night. I stopped at Tom and Allie's to pick up the rest of my stuff and say goodbye. I picked up some Pittsburgh beer at Dierre's request. I drove out of town along the Allegany river. I could hear Jenna Maroney's voice in my head saying "everyone's a model west of the Alleghany." Sometimes it feels like my sense of humor has devolved to a series of 30 Rock references.
I guess I decided that passing tractor trailers on winding mountain roads, I binged several more episodes of The Black Tapes. I mixed in Tom music interludes to keep things from getting too gloomy. I finally reached my apartment at 3am. I only unpacked the essentials and saved the rest for the morning. All in all, I did well enough at 3 Rivers Comic Con. Sales were solid. I met some great people. It was great hanging out and catching up with Tom and Allie. That drive though… I'm not sure if returning next year will be worth that trek. I still haven't ruled it out.