Friday – October 10
Jaime and I left bright and early on Friday so that I could get there in time for the panel Breaking Into Comics the Marvel Way.
I wasn't sure what to expect, but I was pleasantly surprised. From all of the stories and bits of advice I keep hearing, I think it mostly boils down to two things:
1. Finish your work and put it where people can see it.
2. Network effectively and and get to know your community.
Sam Humphries, who garnered attention for his self-published Our Love is Real, was the second panelist at NYCC this year that I heard say "I was in the audience for this panel two years ago." Sam now writes The Legendary Starlord for Marvel. I also enjoyed the anecdotes and stories from Kelly Sue DeConnick, who presently writes Captain Marvel as well as Pretty Deadly for Image. Also on the panel was Jeanine Schaefer (Marvel Talent Scout), Russell Dauterman (Artist of Thor), Gerry Duggan (Writer of Nova), and Charles Soule (Writer of Death of Wolverine). There was one other artist I wanted to include here, but I didn't write down her name and it's not on the official Comic Con listing.
I met up with Jaime after the panel and we made our way to the showroom floor. He ended up buying a few pieces of artwork from the talented and super friendly Nigel Sade. If I were not on a tight budget, I would have picked up a piece from him as well. I also found this awesome Dr. McCoy T-shirt, but they only had smalls and XXLs. This just means I will probably buy it online eventually. Finally I made my way to the Indie Creator Section  (The one that's not Artist Ally).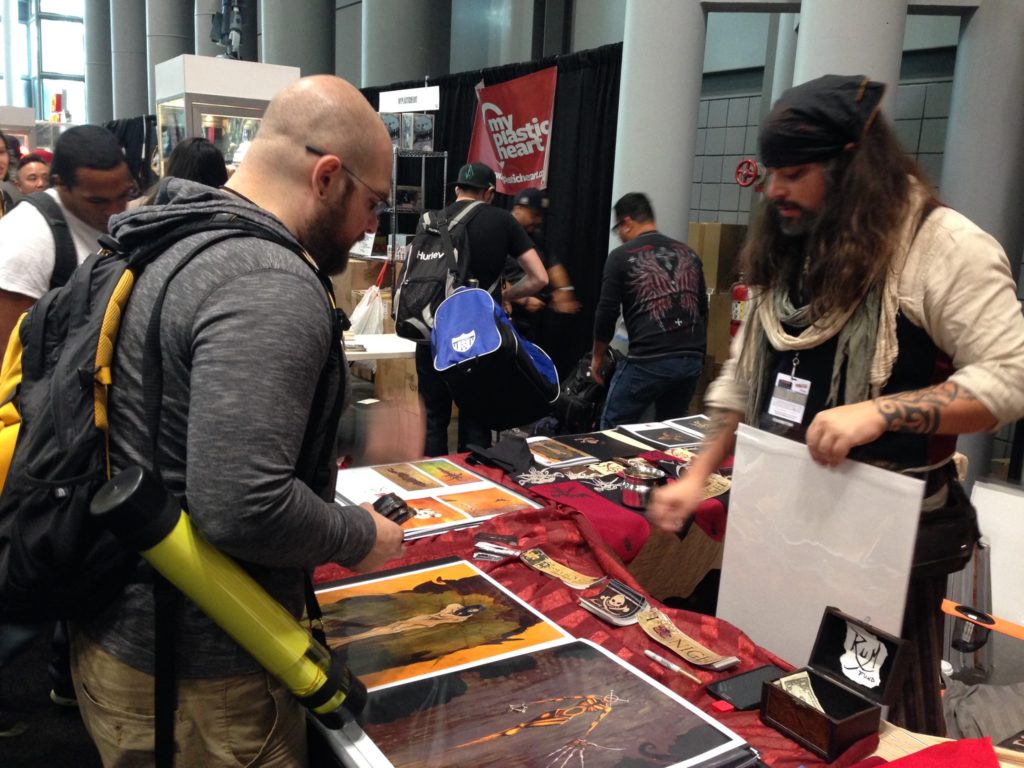 I met and spoke briefly with Adam Burn, who is the artist for Telikos Protocol with writer Peter Cooper. I picked up the first issue (which I highly recommend), which is one of 9 planned 50-page issues in the series. It's a refreshing and original Science Fiction story that's well-written and beautifully realized. Both Adam and Peter traveled from the UK in order to be at NYCC.
Next I spoke with Bethany and Ruben Romero, whom I had seen on the comiXology Submit Panel the night before. They, along with Roger Cabrera, write The Agency. They were incredibly genuine and friendly, and their comic book is one of the best indie works I've seen in a long time. I picked up print copies of Issues 1 & 2, and will be getting Issue #3 on comiXology as soon as my wallet recovers from Comic Con.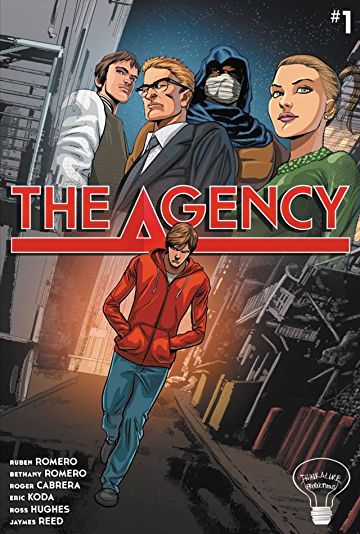 I also met some nice New York City area creators. Picked up the first volume of Argent Starr by Altemus and Lyn T. Byrd (which I will start reading as soon as I finish writing this post). Also met J. G. Ballard, the creator and writer of Venus Rises, which is a web series turned comic book. I will be reading the first two issues of that over the weekend. Lastly I met Zachary Mortensen, who wrote The Gatecrashers with artist SUTU. I'll be posting about all of these as I read them on Tumblr and Goodreads.
Next I made my way to the Creator Connection. The main presentation given at the beginning by Dirk Manning (writer or Nightmare World and Mr. Rhee) was one of the highlights of this year's NYCC for me. It was very entertaining and insightful. I will be diving into his book Write or Wrong as soon as I'm done with all of the other comics I picked up. The main purpose of this panel was to network with artists and writers, so the second half consisted of some chaotic match making in way too small of a room. I was able to meet handful of other up and coming creators who are also just getting their feet wet in the world of comics. Among them were Lawrence Shung, Luke D. Blackwood, Rik Sansone, Efrain Arana III, David Baker, and Amy Lyn Jackson. I put all those names in here hoping most – if not all – might be household names in the near future. Time and hard work will tell.
Following that I met back up with Jaime, and we did a little bit more wandering the floor before deciding to head back to Brooklyn. We basically dropped off our things, played a quick game of fetch with Coeus, then trekked out to Jersey City for a wonderful dinner with friends. By the time we got back to Brooklyn for the second time, we were both pretty beat. Thankfully there were no early panels I wanted to try and make for Saturday.
Originally posted on an older blog.